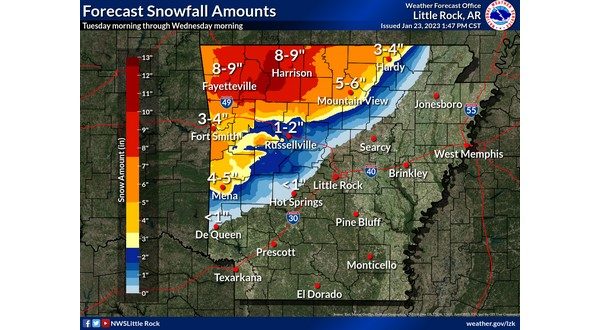 Image courtesy of National Weather Service
The Twin Lakes Area could be seeing nearly a half-foot of snow, if not more, beginning Tuesday night. A winter storm warning will be in effect for north central Arkansas from noon Tuesday through 6 Wednesday morning, for Ozark, Taney and Douglas counties in southern Missouri from 4 Tuesday afternoon through 9 Wednesday morning and for Howell County in southern Missouri from 6 Tuesday evening through noon Wednesday.
Meteorologist Joe Goudsward from the National Weather Service office in North Little Rock says the storm system will come in from the south and the west.

Listen:



The system is expected to begin bringing rain to the Twin Lakes Area Tuesday afternoon. By 6 or 7 that evening, that is expected to turn into winter weather. It will be a heavy, wet snow early on, and the snowfall should continue until around 5 or 6 Wednesday morning.
Area residents might find it strange that we may see the freezing precipitation while temperatures remain above freezing on the ground. Goudsward says that is all about the atmosphere above us.

Listen:



Goudsward adds area residents will need to be mindful travel conditions, among other things.

Listen:



Tune in to KTLO, Classic Hits 101.7 and 99.7 The Boot for the latest winter weather coverage. For cancellations courtesy of Baxter Health, go to ktlo.com/cancellations.
WebReadyTM Powered by WireReady® NSI