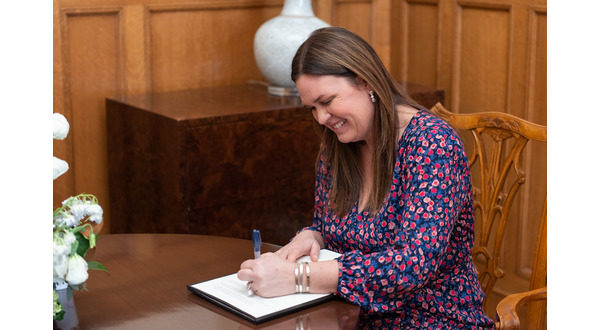 Gov. Sarah Huckabee Sanders signed an executive order Tuesday requiring state officials and a newly formed coalition to draft policies addressing faults in Arkansas' foster care system.
According to the Arkansas Democrat-Gazette, the order tasks state department heads and Every Child Arkansas — a network of non-profits, faith-based organizations and private placement agencies — with finding ways to recruit more foster care parents, connect families with social services and create preventive strategies to keep children out of foster care, Sanders said during a news conference.
"This executive order will have a major direct impact on the foster care system here in Arkansas," she said. "It's just the first of many steps we're planning to take."
By cutting processing times and speeding foster family licensing, Sanders said she expects the initiative to place children in homes in less than two months. The program also aims to increase the transparency of the foster care system and deputize a foster advocate to help foster families in each county, Sanders said.
Roughly 4,100 children were in foster care in Arkansas as of January, according to the state Department of Human Services.
Lawmakers, advocates and foster families crowded the governor's conference room to watch Sanders and other officials affiliated with Every Child Arkansas deliver remarks. Before Sanders signed her order, Dr. Phil Goad, chair of the executive leadership council for Every Child Arkansas, announced the official launch of the foster care network's website.
"It will raise awareness of the need for foster care and adoptive families in our state," he said. "This magnificent new online resource will be telling encouraging stories of success and provide opportunities for Arkansans across the state to volunteer and learn more about foster care."
The Every Child Arkansas network aims to ensure Arkansas has "more than enough" foster families, adoptive families and support for biological families, Goad said.
The coalition includes organizations such as CASA for Children, CarePortal, Children's Homes Inc., Project Zero and others, according to the network's website.
"It is our goal and belief that Arkansas can and will be the first state in the United States to reach every child, to be more than enough for every child and every family in every county in our state," he said.
Jerome Strickland, executive director of The Contingent Arkansas, announced the partnership was kicking off a marketing campaign dubbed Show Up Arkansas.
"If you want to show up and serve, all you have to do is go to www.everychildarkansas.org," said Strickland, pointing to the network's new website.
Mischa Martin, deputy director for the Department of Human Services, said the launch of Every Child Arkansas would help communities work with the department's Division of Children and Family Services and partner organizations.
"Now our communities can see and work with us and connect," she said. "Great things are going to happen when we come together."
The executive order requires the establishment of the Arkansas Strategic Plan for Foster Care Placement. The plan involves a working group composed of Every Child Arkansas and the secretaries of the state Department of Human Services, Department of Public Safety and Department of Education.
Among other strategies, the plan will aim to support in-home parenting, deliver mental health and substance abuse treatment services to foster children and biological and foster families, facilitate coordinated monitoring of child safety and recruit foster families committed to supporting biological families and promoting reunification.
After developing the strategic plan, the working group will incorporate "trauma-informed training" into existing training systems within the respective departments for child-welfare workers, educators and public safety and law enforcement officers. The coalition also will recommend to the governor any specific actions needed to facilitate the order, including more executive or legislative measures no later than June 30.
Sanders' executive order charges the secretary of the Department of Human Services or a designee of the secretary with streamlining the adoption process from state foster care and the placement of children in foster care with relatives.
State officials are tasked with submitting a report on "strategies to interrupt generational cycles of abuse and neglect that impact children aging out of foster care," presenting recommendations on measures to avoid homelessness, human trafficking and incarceration for children aging out of foster care, and comparing outcomes for assisting children aging out of foster care in Arkansas with national and regional outcomes.
The director of the Division of Children and Family Services is required under the order to meet quarterly with foster care stakeholders "to collaborate on efforts to better serve children and families receiving services through" the division. The meetings will continue through at least the end of the 2025 calendar year, and officials will have to provide annual reports on the meetings to the governor.
The Division of Children and Family Services at the Arkansas Department of Human Services is also tasked with creating or coordinating a single-source website location for data related to foster care in the state.
The site will include county-level foster care data, an annual report card and operational report for the division, the name and contact information of at least one foster and adoption advocate in each county not employed by the state, and other information suggested by the director of the division, according to the order.
WebReadyTM Powered by WireReady® NSI