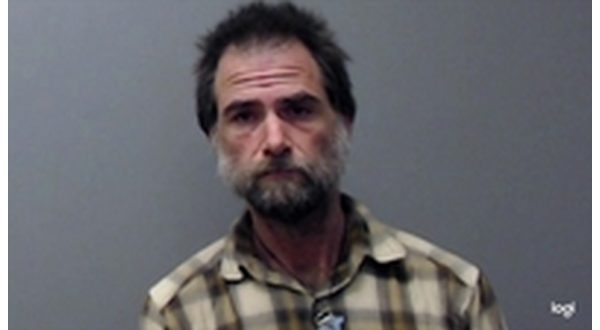 A man accused of burning down his house to get rid of imaginary people appeared in Baxter County Circuit Court Monday and pled guilty to a reduce charge of unlawful burning.
Forty-two-year-old Christian Gabriel Bolding was sentenced to three years probation.
Bolding was initially charged with arson in the fire that destroyed a family residence where he had been living. At the time, the residence, located along County Road 645, was part of his mother's unsettled estate and did not technically belong to Bolding. It was announced in court Monday that the estate had been settled and that Bolding had been given ownership of the burned-out residence, meaning he had torched his own property and resulting in a modification of the original charge.
Authorities were alerted to the blaze December 2, 2021 when Bolding's sister called 911 and said her brother had come to her residence riding on an all terrain vehicle and reported the house was burning. The sister reported him saying he "could not take it anymore," so he destroyed the house.
Family members told investigators Bolding had a history of believing imaginary people were after him. He was alleged to have been seen stabbing the air with a knife and shooting a rifle into the woods aiming at no observable target.
Bolding also said unknown people were using drones and other devices to keep up with his activities, control his vehicles and steal items from his pockets.
Immediately after the fire, six affidavits were filed seeking Orders of Protection against Bolding. The orders were approved and are set to be in force until 2024, according to court records.
The affidavits seeking the protective orders listed some of Bolding's observed behavior, including sometimes yelling at unseen people for hours, shooting holes in the floor of his residence and burning a newly purchased Jeep because he believed his ex-wife was in the vehicle and he wanted to get her out.
Bolding was also alleged to have made various threats to neighbors and family members, including burning down their homes. One relative said Bolding often accused him of doing things he had not done. Bolding told investigators he did not intend to carry out the threats. He is alleged to have admitted that he "sees people."
When he was questioned on the day of the fire, Bolding told investigators the blaze was accidental. He said he had been working on the floor of the residence, had gone outside, found some fireworks and discharged them. He said a "fuse" went a trackman starting a fire that spread quickly to the residence.
In mid-January last year, Bolding was listed as a missing person. His family reported at the time that he had not been seen since mid-December 2021. Baxter County Sheriff John Montgomery announced in early March that Bolding had been located. He was an inmate in a detention facility in Missouri.
WebReadyTM Powered by WireReady® NSI