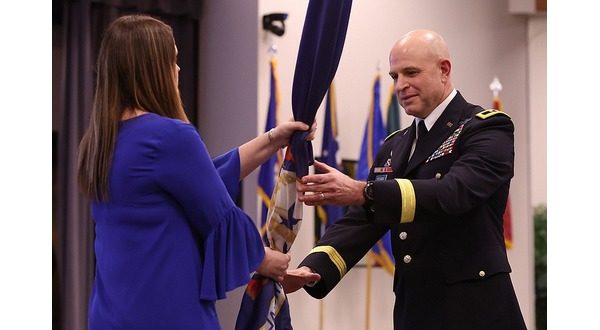 Arkansas National Guard Major General Jonathan M. Stubbs, right, accepts the Department of the Military Command Colors from Gov. Sarah Huckabee Sanders during an Assumption of Command Ceremony at Camp Robinson on Saturday. (Photo courtesy of Arkansas Democrat-Gazette)
Thirty years after he first enlisted in the National Guard and after roughly 27 years as part of the Arkansas National Guard, Maj. Gen. Jonathan Stubbs formally became the 54th adjutant general of Arkansas on Saturday.
Stubbs took part in an Assumption of Command ceremony held at the Camp Robinson's Professional Education Center.
The ceremony was overseen by Gov. Sarah Huckabee Sanders.
Sanders nominated Stubbs to be the adjutant general in January.
"Major general, if there is anyone who understands service and understands sacrifice, it is you," Sanders said to a room filled with a couple hundred dignitaries and service members. "You can look every single member of our National Guard in the eyes and say that you have been in their shoes. You know what they're going through."
Sanders said "the quality of our National Guard can be the difference between life and death. … I know that Maj. Gen. Stubbs is the man to lead our National Guard into the future."
Stubbs and his family, including wife Jane, return to Arkansas after he spent two years stationed at the Pentagon in Washington D.C. as deputy director of Operations, Readiness and Mobilization.
In an interview before the ceremony, Stubbs called his elevation to adjutant general "a little bit overwhelming" and "incredibly humbling."
"To be able to represent this incredible organization as the adjutant general, to represent over 8,400 soldiers and airmen of this storied organization, just humbled, grateful," Stubbs said. "Incredibly excited for the future."
"You think about where you started in the organization as a very young officer and now to be selected and appointed as the adjutant general this many years later and everything that happened in between, it's a lot to take in."
Stubbs first enlisted in National Guard in October 1993 in Company A, 4-117th Infantry Battalion in Lexington, Tenn., as a private first class.
His family had a long history in the armed forces, including his father — a Methodist preacher — serving as a National Guard chaplain.
"He was the first soldier I ever knew and I grew up just kind of with the idea of serving," Stubbs said. "And I just finally worked up the courage … going into my senior year of college to join and to do it."
While he didn't necessarily envision becoming an adjutant general, he did enlist "with very specific goals to become an officer."
Stubbs has spent the last two months getting "reoriented" with the organization he "grew up in."
"Doing a lot of listening and just evaluating and just understanding where the organization is, and kind of crafting my vision and my priorities for the future," Stubbs said.
In the interview and during the ceremony Stubbs laid out his five priorities: People, recruiting/retention, readiness, relevance/modernization and innovation.
As he detailed each, Stubbs occasionally rapped his right fist on a raised table to emphasize his points.
"Taking care of people. That's my No. 1 priority," Stubbs said. "It's always gonna be my No. 1 priority. And when I talk to people, I'm talking about soldiers. I'm talking about airmen. I'm talking about their families. I'm talking about all of our civilian employees that we have within the Arkansas National Guard. And I'm also talking about the employers that are out there in our communities that provide their respective employees to our organizations."
As far as relevance and modernization, Stubbs was asked if there were any specific facilities he wants to see introduced in Arkansas.
"I want to make sure that we're postured to build new readiness centers in our community," Stubbs said. "So we're really excited about the possibility of building a new Army National Guard readiness center in Pulaski County."
Stubbs said that center, or armory, would be outside Camp Robinson.
"It's all tied to the military construction timeline," Stubbs said. "So within the next, say, five to seven years, we want to get something like that."
WebReadyTM Powered by WireReady® NSI