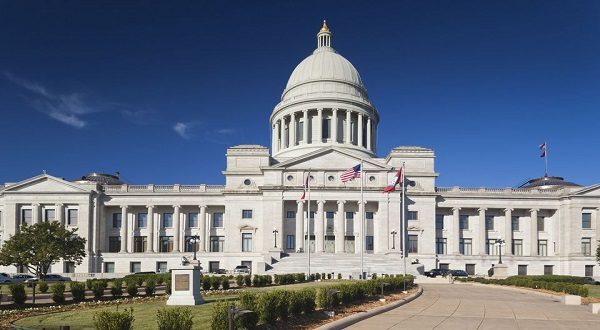 State Rep. Mary Bentley, R-Perryville, filed a bill Monday that would add three words to the Arkansas Freedom of Information Act: "of a quorum."
Bentley said those words are needed to define what constitutes a "public meeting."
Otherwise, a public meeting could be construed as two board members talking about the public's business.
"I don't think this weakens FOIA at all," Bentley said in response to a reporter's question. "I think it strengthens it because of the ambiguity that's in that definition."
Bentley said the ambiguous definition of public meetings in the Arkansas law has hampered quorum courts, city councils and school boards in her House District 54, which includes all of Perry County and parts of Faulkner, Saline and Yell counties.
Bentley said members of those boards should be able to talk in small groups among themselves, as legislators can do, before holding public meetings to discuss and vote on issues before the public.
Bentley said she researched the six states that border Arkansas, and all of them define a public meeting as one consisting of either a quorum or a majority of the board members.
"I'm just mirroring what they're doing," she said.
Bentley said she doesn't see that bordering states are having more corruption because their definition of a public meeting requires a quorum or majority.
Bentley's House Bill 1610 would add "of a quorum" to this part of Arkansas Code § 25-19-106 concerning open public meetings:
"(a) Except as otherwise specifically provided by law, all meetings, formal or informal, special or regular, (of a quorum) of the governing bodies of all municipalities, counties, townships, and school districts and all boards, bureaus, commissions, or organizations of the State of Arkansas, except grand juries, supported wholly or in part by public funds or expending public funds, shall be public meetings."
Robert Steinbuch, a professor of law at the University of Arkansas at Little Rock, said the change won't shed more light on things for the public.
"Mary's a good friend, but I think this bill is a mistake," Steinbuch said. "The people have a right to see the operation of their government. That's what the open meetings act requires and that's what good government requires. This bill, unfortunately even with good motives, goes in the wrong direction.
"I'm thankful for Mary's efforts. She's a great legislator. She's a good friend, but we disagree on this bill."
On March 7, state Sen. Alan Clark, R-Lonsdale, filed Senate Bill 382, which would amend Arkansas Code § 25-19-103 to define a meeting as "the convening of two (2) or more members of a governing body of a public entity for which a quorum is required to make a decision, discuss public business, or deliberate toward a decision on any matter."
In Clark's bill, a meeting doesn't include "the on-site inspection of a project or program" or "a chance interaction of two (2) or more members of a governing body of a public entity."
"Sen. Clark's bill goes in the other direction, and I think that's a better bill," Steinbuch said. "That bill says 'Look, if you're a member of a governing body, you should restrict your conversations of items that are under consideration to the open meeting,' and I think that's entirely doable. I think that's the better way to go."
The board members can still go out to dinner together, but they should refrain from discussing board business until they get to the public meeting, Steinbuch said.
Bentley said she's been working on the bill for a month and didn't know Clark was working on his bill regarding public meetings.
Bentley said the current law prohibits justices of the peace and school board members from doing as good a job as they could.
She said very few people attend quorum court and school board meetings.
"I think we'll have more engagement with the public because the school board members and the quorum court members have been not engaging with the public like they should've because they're afraid that they're going to be sued for breaking the FOIA law because it was just so ambiguous," she said. "So I think we'll have more engagement with the public and within members of the quorum court, school board and city council."
Under her bill, they still can't "conduct business" or "vote on anything" without a quorum present, she said.
But, under her bill, Bentley said justices of the peace could ride in the same vehicle to a conference somewhere and brainstorm about ways to improve county government along the way there and the way back.
Now, they're afraid to even talk, she said.
"They don't want people to think something is going on nefariously," Bentley said'.
"I think it's unfair that we have restrained them in the way that we have," she said.
Bentley's bill has 22 co-sponsors in the House and one so far in the Senate. The bill has been referred to the House Committee on State Agencies & Governmental Affairs.
Clark's bill was referred to a similar committee in the Senate.
WebReadyTM Powered by WireReady® NSI