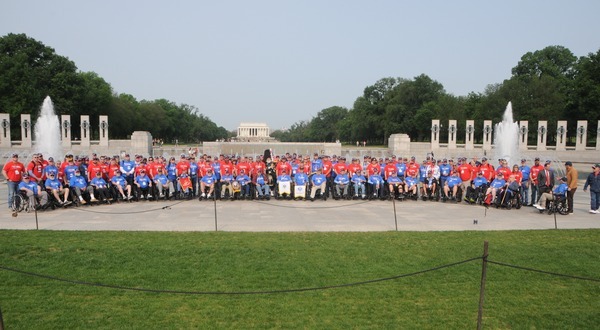 Last week, 80 veterans with accompanying guardians, seven which included veterans from Arkansas, participated in the first Honor Flight of the Ozarks of 2023. Arkansans who participated were from Williford, Pea Ridge, Alpena, Cherokee Village, Bella Vista and Harrison.
This one-day trip included visits to the World War II Memorial, Korean Memorial, Vietnam Memorial Wall, Iwo Jima Memorial and the Air Force Memorial Wall. Several veterans located names of friends or relatives on the wall who were killed during the wars and made rubbings of the names to bring home.
The group then visited the Arlington National Cemetery where the veterans had a front row experience to see the Changing of the Guard at the Tomb of the Unknown Soldier, along with two wreath laying ceremonies at the Tomb.
The Honor Flight of the Ozarks in a one-day trip to Washington, D.C. and is open to all qualifying veterans of WWII, Korean Conflict, Vietnam Era, and Desert Shield/Desert Storm to visit the WWII, Korean Conflict, Navy, Air Force, Vietnam and Iwo Jima memorials, and Arlington Cemetery.
Flight priority is given to all terminally ill veterans of any war era, followed by WWII, Korean, Vietnam, and Desert Shield/Desert Storm veterans. A Guardian is required to accompany each Veteran on every flight where they provide assistance needed by each Veteran to ensure a safe and rewarding experience.
For more information visit honorflightoftheozarks.org.
WebReadyTM Powered by WireReady® NSI