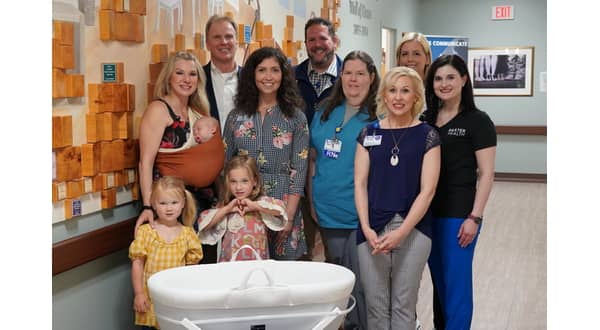 The Baxter Health Women and Newborn Care Center recently received a donation of a CuddleCot, a device makes the stay of grieving parents a little bit easier after loosing a child. The donation is a result of a fundraiser facilitated through social media, with the assistance of the Baxter Health Foundation.
In lieu of a baby shower, local social media influencer Karla Bradley, a mother of 9 children and the wife of neurosurgeon Dr. Lucas Bradley held an online fundraiser, where over $8,000 was donated to the Baxter Health Foundation from individuals all over the world.
A CuddleCot is a cooling unit which can be placed inside a Moses basket or crib. This device allows families to spend more time with their deceased baby, enabling precious moments of bonding and closure. CuddleCots have become increasingly essential in hospitals and care centers as they provide families with the opportunity to create lasting memories with their loved ones. Due to the outpouring of support from the social media community, the Women and Newborn Care Center can now offer this valuable service to families who are experiencing the loss of a newborn baby.
The donation also highlighted the Bradley family's commitment to the Baxter Health Foundation and our community. Bradley stated, "It is our sincere hope that this CuddleCot will help families cherish every moment they have with their baby, no matter how brief that moment may be."
The Women and Newborn Care Center team and Baxter Health are honored to be the recipient of this generous gift. The CuddleCot will undoubtedly serve as a source of comfort and support for many families during their most difficult times. The Baxter Health Foundation extends its deepest appreciation to the Bradley family and others who have contributed to making our Women and Newborn Care Center a place of compassion, healing, and hope.
WebReadyTM Powered by WireReady® NSI