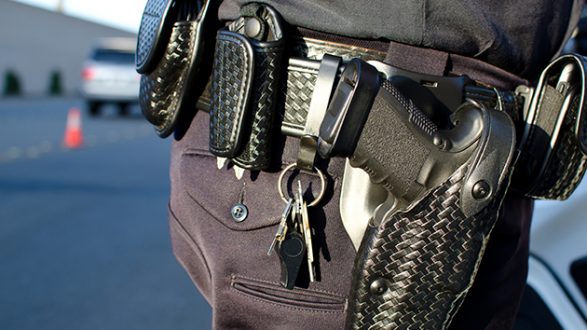 iStock/Thinkstock(MINNEAPOLIS) — Minnesota state officials released on Tuesday night the identities of two Minneapolis Police Department officers involved in the fatal shooting of a 40-year-old Australian woman who called 911 on Saturday.
Police have launched an internal affairs review of the officers' use of force.
Matthew Harrity, who has been with the Minneapolis Police Department for one year, and Mohamed Noor, who has been with the department for 21 months, were the responding officers to the scene after Justine Maia Ruszczyk called 911 to report a possible assault near her home, the Minnesota Department of Public Safety announced in a press release Tuesday night.
Harrity was driving the squad car, while Noor was in the passenger seat, according to the DPS. As they neared Ruszczyk's home, Harrity indicated that he was startled by a loud sound near the car, after which Ruszczyk immediately approached the driver's side, Minnesota DPS said.
Noor then fired his weapon, striking Ruszczyk through the driver's side window, which was open, according to the DPS. The officers provided medical assistance to Ruszczyk until EMS arrived, but she was pronounced dead at the scene.
Police said at a press conference Tuesday night that the 911 call's transcript will be released after Ruszczyk's family has reviewed it.
The Hennepin County Medical Examiner's Officer confirmed Monday that Ruszczyk died of a single gunshot wound to her abdomen.
Investigators are seeking to interview a white male about 18 to 25 years old who was seen riding a bicycle in the area immediately before the shooting, according to the DPS.
The officers' body cameras were not turned on during the shooting, authorities said. The reason why police did not have their body cameras turned on is a "key question" for investigators, Minneapolis Mayor Betsy Hodges said on ABC News' Good Morning America Tuesday.
Minneapolis Police Department Assistant Chief Mederia Arradondo said at Tuesday night's press conference that the department is eight months out from fully rolling out body cameras across the force. He added that the police department will soon review the body camera program.
In a statement Tuesday, Hodges described Ruszczyk's death as "tragic," adding that she will continue to keep the lines of communication among officials and the public open due to interest in the case.
Harrity was interviewed by investigators Tuesday, but Noor declined to be interviewed, the DPS said. The Minnesota DPS Bureau of Criminal Apprehension cannot compel Noor to testify, and Noor's attorney did not provide clarification on when, if ever, an interview will take place.
"We all want answers, we all want justice to be done … I wish he would make that statement," Hodges said at press conference Tuesday night. She also said she has spoken to Ruszczyk's fiance, Don Damond, and their neighbors.
Council member Linea Palmisano expressed her dissatisfaction with the information released so far, describing it as "underwhelming."
Both officers have been placed on standard paid administrative leave. Ruszczyk's death is being ruled a homicide.
Minnesota Police Chief Janee Harteau was out of the state for personal travel in the aftermath of the shooting but is cutting the trip short due to the incident, a spokesperson for the department told ABC News. She has been in constant contact with her team over the last three days, the spokesperson said.
Damond told reporters Monday that Ruszczyk's death is a "loss to everyone who knew her."
"She touched so many people with her loving and generous heart. She was a teacher to so many and living a life of openness, love, and kindness," he said. "Our lives are forever changed as a result of knowing her. She was so kind and so darn funny … It is difficult to fathom how to go forward without her in my life."
Copyright © 2017, ABC Radio. All rights reserved.