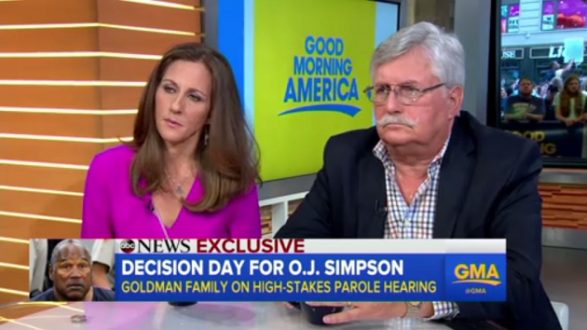 ABC News(NEW YORK) — Hours before O.J. Simpson is to go before a Nevada parole board, Fred and Kim Goldman, the father and sister of Ron Goldman, spoke out and said they may never see justice for the killing of their family member.
"Ron never gets to spend his life doing what he wanted to do," a tearful Fred Goldman told ABC News Chief Anchor George Stephanopoulos Thursday on Good Morning America. "We'll never get to share his life, and the killer will walk free and get to do whatever he wants."
Stephanopoulos asked the Goldmans if they think they may ever see justice.
We'll "probably never see that … never get the justice," Fred Goldman said.
Fred and Kim Goldman were present as Simpson stood trial for the 1994 killing of Ron Goldman and the football star's wife, Nicole Brown Simpson.
Simpson was acquitted of charges in both killings but in an unrelated case he is serving a 33-year sentence at Lovelock Correctional Center in Lovelock, Nevada in connection with a kidnapping and armed robbery.
Simpson has so far served nine years and will have a parole hearing Thursday in which case, the former Heisman trophy winner could walk free.
Craig Arnett, a former guard at Lovelock Correctional, described Simpson as a model prisoner.
"He's still an inmate, but he definitely wasn't a problem child like some of the other ones were," Arnett told ABC News Wednesday. "I think he has a strong chance of getting out. I think he hasn't really been a problem in prison."
If Simpson is granted parole, his earliest possible release date is Oct. 1.
Denial could mean at least another three years behind bars.
ABC will have live coverage of Simpson's parole hearing Thursday at 1 p.m. Eastern.
Copyright © 2017, ABC Radio. All rights reserved.