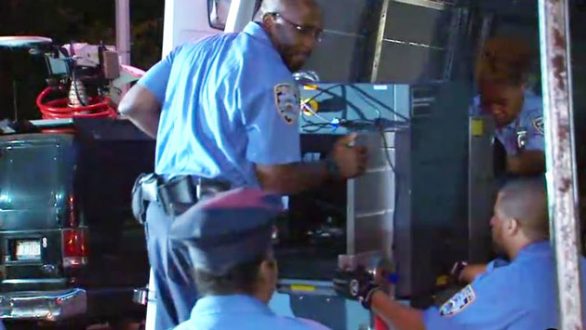 ABC News(NEW YORK) — Police say bullying is not necessarily being eliminated as a possible motive in the stabbing of two boys at a New York City school Wednesday.
A 15-year-old boy was killed and a 16-year-old boy was injured when an 18-year-old fellow student allegedly stabbed them in the middle of class, police said. The attack happened at a Bronx building housing the Urban Assembly School for Wildlife Conservation and P.S. 67, police added.
Police said the suspect, Abel Cedeno, gave them a detailed statement in which he indicated the two stabbing victims only started bothering him on the day he allegedly stabbed each of them once in the chest.
Bob Boyce, chief of detectives for the New York Police Department, said Cedeno told investigators he had been verbally harassed by other students before the start of school "but not these two individuals."
Cedeno was arrested on charges of murder, attempted murder, manslaughter, attempted manslaughter, assault and criminal possession of a weapon.
Cedeno was ordered held without bail after a brief court appearance Thursday.
Cedeno's lawyer from the Legal Aid Society requested medical attention and a psychiatric evaluation for Cedeno, and that he be placed on a suicide watch.
"We are currently meeting with our client and his family and reviewing the facts and circumstances of this case, including the long history of bullying and intimidation Abel has endured," the Legal Aid Society said in a statement Thursday.
Cedeno's mother is in Puerto Rico and is unable to be in contact with police because of Hurricane Maria, police said, and detectives are instead communicating with his older brother.
A knife with a 3-inch blade and a 4-inch handle was allegedly used in the attack and recovered at the scene Wednesday, police said.
The school did not have metal detectors at the time, officials said, adding that the knife would have been detected if there had been.
New York City Mayor Bill de Blasio inspected new metal detectors that were placed in the school Thursday morning.
Assistant Chief Brian Conroy of the NYPD's school safety division suggested the school's new metal detectors could be temporary.
"We just need to continue to evaluate and if there is a need for scanning we will move forward," Conroy said. "If we do not need scanning, we can take it out."
It was the first time in nearly 25 years that a New York City public school student was killed inside a school. On Feb. 24, 1993, a 15-year-old was fatally stabbed in the hallway of Junior High School 25 in Manhattan.
The mayor said Wednesday the school community is "reeling."
"Our hearts are very heavy right now," he said. "My heart goes out to the families who have been affected by this tragedy."
Copyright © 2017, ABC Radio. All rights reserved.