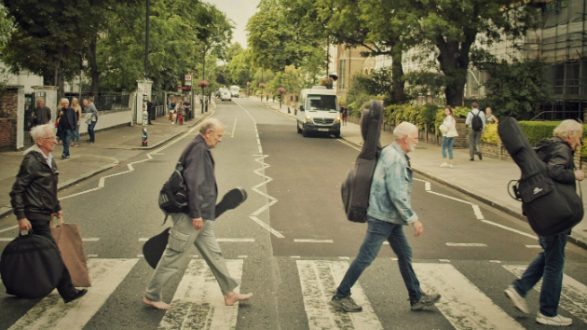 PRNewsfoto/PreFab Four Productions, LLCSome of the surviving members of The Quarry Men, the Liverpool, U.K., skiffle group that evolved into The Beatles, reunited this week to record at London's famed Abbey Road Studios. The session was filmed for an upcoming documentary called PRE FAB! that will focus on founding Quarry Men drummer Colin Hanton.
Hanton was a member of The Quarry Men from 1956 until 1959, and also has played with the current incarnation of the group since 1997. Colin took part in the Abbey Road session along with three other musicians who played with The Quarry Men during the late 1950s — bassist Chas Newby, and guitarists Len Garry and Rod Davis — and are current members as well.
In addition to London, PRE FAB! also is filming in Liverpool, New York City and Los Angeles. The movie is based on the biographical book of the same name, which was written by acclaimed author Colin Hall, who also serves as custodian of the late John Lennon's one-time home in the Woolton section of Liverpool.
Hanton was a co-founding member of The Quarry Men with Lennon, and was in the group when Paul McCartney and, later, George Harrison joined. In 1958, Hanton took part in the first recording to feature Lennon, McCartney and Harrison — a cover of the Buddy Holly classic "That'll Be the Day."
"Viewers of the new film will be given the opportunity to experience the beginnings of one of the biggest bands in the world and to understand how Merseybeat developed," says PRE FAB! producer Mark Bentley. He adds that "when Colin left The Quarry Men, he left behind the nucleus of what would later become The Beatles. Without The Quarry Men there would be no Beatles."
Copyright © 2019, ABC Radio. All rights reserved.