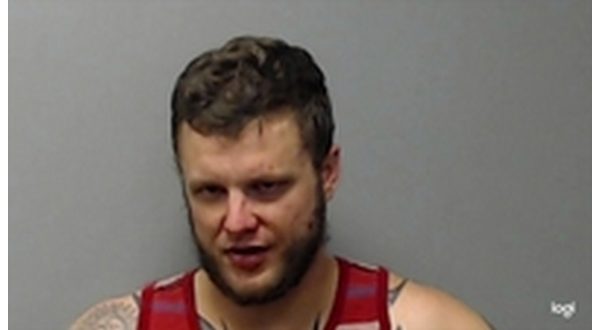 A Mountain Home man charged with felony battery stemming from an altercation in the county jail during which he attempted to urinate on staff appeared in Baxter County Circuit Court June 27.
28-year-old Jacob Wesley Rees entered a not guilty plea to charges of impairing the operations of a vital public facility, terroristic threatening and 2nd degree battery.
JAIL ALTERCATION
According to the probable cause affidavit, Rees was being booked into the detention center after his arrest by Mountain Home Police in the early morning hours of May 30.
He was initially charged with disorderly conduct and public intoxication.
As the booking process was underway, Rees was first reported to have become disruptive by slamming a telephone receiver down.
He was then secured to a bench in the booking area. While on the bench, Rees is reported to have threatened two jailers, telling them he was going to punch both in the face.
Rees was left on the bench for a short period to allow him to calm down.
Once Rees was released from the handcuffs holding him on the bench, he was taken to the detox area of the jail to be dressed out in a jail uniform.
He is reported to have become angry again and attempted to urinate on one jailer who was able to push him back. Another jailer drew a stun gun and ordered Rees to the ground, but he was reported not to have obeyed the command.
According to the incident report, Rees then struck a jailer on the left side of his head.
The stun gun was used and Rees became compliant and the remainder of the booking process was completed.
REVOCATION OF PROBATION IN 2019 CASE
Rees, who is free on a $10,000 bond, is also facing the revocation of his probation handed down in a 2019 drug case. A petition to revoke was filed June 1 based on the new charges filed against Rees stemming from the jail incident.
Rees' 2019 charges stemmed from a search of his residence along Bomber Boulevard in which marijuana and drug paraphernalia were reported found.
He was sentenced to five years probation in early March 2020.
Officers went to Rees' home after being tipped that he had illegal substances in his residence, according to the probable cause affidavit.
In addition to the marijuana, officers also reported locating four Xanax pills in a coffee cup and a bottle containing suspected THC-laced oil in the freezer.
THC is the main psychoactive component of marijuana.
The list of drug paraphernalia included digital scales, a metal grinder and a vacuum sealer.
At the time of his 2019 arrest, Rees was already on probation on a conviction stemming from marijuana possession with intent to deliver in Washington County.
One of the terms and conditions of a suspended sentence is that the person on probation signs a waiver permitting a warrantless search of his person and property.
Rees was arrested in Washington County after selling marijuana to confidential informants working with law enforcement on two occasions in December 2014. In both sales, the informant paid Rees $300 for an ounce of the drug.
WebReadyTM Powered by WireReady® NSI