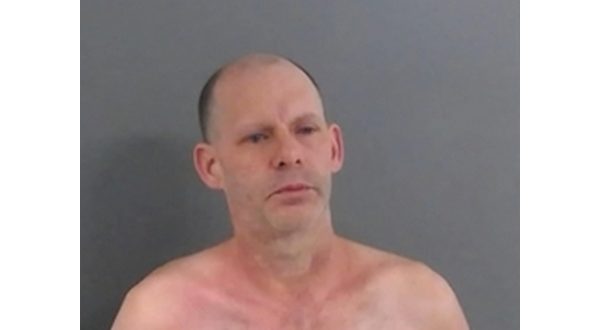 Fifty-three-year-old Jody Qualls of Marion County has been arrested after authorities were dispatched to two domestic incidents in the same day.
On the afternoon of July 7, authorities were dispatched to a residence for a report of a verbal domestic incident.
Upon arrival, the caller stated her roommate, identified as Qualls, had been drinking and would not quit harassing her, but nothing had been physical. The officer left after speaking with both parties who agreed to stay in separate rooms.
That same evening, authorities returned to the residence for a report of a physical domestic incident possibly involving a knife and hammer. Dispatch noted the original caller would be in the next driveway where she was able to flag someone down to use the phone.
Upon arrival, the caller/victim stated Qualls was still intoxicated and continued to harass her. She stated at one point during the evening she believed Qualls exited the residence, and while he stepped out, she went to his bedroom to retrieve DVD's.
While retrieving the DVD's, the victim stated Qualls returned and allegedly became belligerent and began screaming obscenities at her. The victim stated she returned to her bedroom to begin making phone calls to arrange for someone to pick her up when Qualls allegedly overheard her talking, took the phone and smashed it, then began to chase her around the house with a knife and hammer.
The victim stated she was able to find pepper spray, where she then sprayed Qualls in the face.
As the victim gathered items in preparation of leaving the residence, Qualls allegedly threw her to the floor and punched her several times in the face and head. The victim states she was able to kick Qualls off of her and run out of the residence where she flagged someone down to call 911.
Authorities noted visible injuries to the face which were not present at the time of the first call.
Authorities made contact with Qualls who stated he became upset because the victim was allegedly using methamphetamine and he did not want it in the residence. He stated she became upset and sprayed him with pepper spray. Authorities asked if Qualls chased the victim with a knife and hammer to which he replied he had not and he had been the one attacked.
A search of the residence was then conducted where pepper spray was observed in the area corroborating the victims description of where the incident took place.
Qualls has been booked into the Marion County Law Enforcement Center on a felony charge of aggravated assault on a family or household member, and misdeameanor counts of domestic battery in the third degree and interference with emergency communications.
Bond is set at $5,000.
WebReadyTM Powered by WireReady® NSI