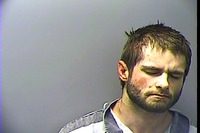 Joseph Waugh of Caulfield, Missouri, was sentenced to 12 months in one of the Community Correction Centers in the state after admitting during a session of Baxter County Circuit Court last week that he had violated the terms and conditions of his probation handed down in an earlier drug-related case.
The 21-year-old Waugh's latest arrest came on February 16th when a Baxter County Deputy Sheriff saw a vehicle cross the centerline on Buford Road. The vehicle pulled into the driveway followed by the deputy. When the license plate on the vehicle was run, it came back to another car.
After it was discovered that Waugh had a warrant out for his arrest for violating probation, the deputy attempted to put handcuffs on Waugh, but he resisted and the deputy had to use pepper spray to subdue him.
Waugh was found to have a set of brass knuckles in his pants pocket. A purple case was found underneath the middle console of the vehicle. According to the probable cause affidavit, it contained a digital scale often used to weight drugs, two syringes and a portable computer belonging to Wal Mart that was never to leave the store.
After Waugh was transported to the Baxter County Detention Center, a deputy found a smoking pipe commonly used to ingest drugs in the backseat of his patrol vehicle. The vehicles are searched prior to the beginning of each shift, and the pipe was not present before Waugh was placed in the vehicle for the trip to jail.
WebReadyTM Powered by WireReady® NSI