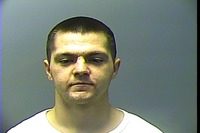 Gary Lee Palmer of Flippin, who picked up more felony charges while an inmate in the Baxter County jail related to possession of contraband including suspected marijuana hidden in a Bible, entered a not guilty plea to those charges during a session of Baxter County Circuit Court Thursday.
According to the probable cause affidavit in the case, a cell search on March 6th turned up a number of articles in the cell occupied by Palmer, including tobacco that was secreted on the bottom of Palmer's bed by magnets, and a small plastic bag containing a green leafy substance suspected to be marijuana hidden in a Bible found on Palmer's bed.
As a result of the finds, new charges were filed against the 26-year-old Palmer including felony possession of marijuana and having contraband in the jail.
Palmer also has an active criminal case in this county involving a break-in at Yoshi's Steak Japanese Steak House during the evening hours of October 25th, 2015.
In that case, Mountain Home Police responded to the reported break-in at the restaurant and found that a window was broken and approximately $600 in cash missing from a drawer in the manager's office.
Palmer, a former employee of the restaurant who had only recently quit his job, was named as a suspect. Blood was found at the scene and swabs were sent to the Arkansas State Crime Laboratory. The DNA profile developed from the samples was linked to Palmer.
Palmer is scheduled to reappear in Circuit Court on both cases March 23rd. He remains in the Baxter County jail with bond set at $5,000.
WebReadyTM Powered by WireReady® NSI