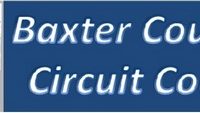 Several people were given probation during a session of Baxter County Circuit Court Thursday with each of the cases beginning with routine traffic stops.
Kenny Vandrimmelen of Salesville pled no contest to drug-related charges stemming from a traffic stop on October 8th last year and was given five years probation.
According to the probable cause affidavit, the 36 year old Vandrimmelen was a passenger in a vehicle stopped by a Baxter County Deputy. The driver of the vehicle was on probation and had a search waiver on file. When the deputy searched the vehicle, a substance believed to be methamphetamine and scales to weight the drug were found. The items were located near where Vandrimmelen had been sitting in the vehicle and he was charged with possession of methamphetamine and drug paraphernalia.
Vandrimmelen was sentenced under provisions of Act 346 which means that if he stays out of trouble during his probation period, he can apply to the court to have his record sealed.
Matthew Snooks of Mountain Home was given four years probation after pleading guilty to drug-related charges.
The 41-year-old Snooks was stopped by an Arkansas State Trooper on a traffic infraction October 11th last year. During that stop, Snooks was found to have drugs and drug paraphernalia used to ingest drugs in his possession and was placed under arrest.
Anna Hale of Mountain Home was also given four years probation after changing her plea to guilty on drug-related charges.
The 45-year-old Hale was stopped by a Baxter County Deputy Sheriff on October 12th last year after she ran a red light at the intersection of Highway 62/412 and Club Boulevard. In the probable cause affidavit, the deputy reported detecting the "strong odor" of marijuana coming from the pickup truck. A search of the vehicle turned up a glass smoking pipe often used for the ingestion of drugs. Hale is alleged to have broken the pipe and thrown it under the truck when the deputy went to his car to obtain a camera to document the location of the pipe. It was also reported that a small amount of green leafy substance had been ground into the carpet on the passenger side of the truck.
In addition to the drug-related charges, Hale was charged with tampering with physical evidence.
Hale was also sentenced under provisions of Act 346.
WebReadyTM Powered by WireReady® NSI