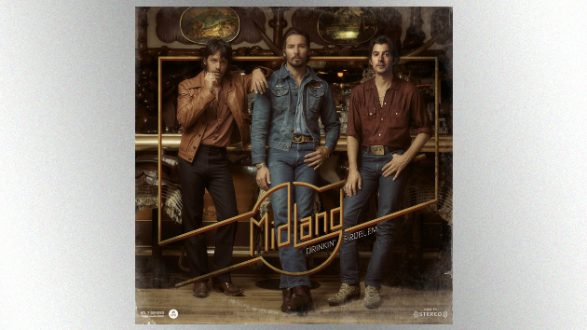 BMLGNew trio Midland is enjoying their first top-fifteen hit thanks to their debut single, "Drinkin' Problem." But Mark Wystrach, Cameron Duddy and Jess Carson owe their band's moniker to a track from the 2003 album, Population Me.
"The name Midland was inspired by the Dwight Yoakam song 'Fair to Midland,'" Mark reveals.
"The reason why that was important was that the song is about a guy that loses what was most pure, most honest and was true love," he explains. "And he lost it in the pursuit of something that was glittering and something was gold. And the song is about if you could go back in time he would go for what's true."
Mark believes the name captures the kind of authenticity he, Cameron and Jess are trying to convey.
"When the three of us came together it was three very strong personas and different perspectives musically," Mark recalls, "and Midland itself, it captured that idea because it was a reference from that song."
"And it also was kind of symbolic of a place where the three of us come together," he goes on, "and the rest of the world is, it's different when the three of us are together. It is this place, it's almost like a place that we live, Midland. And then we found out that it's actually a real city in Texas."
Prior to forming the band, Mark was an actor and model. Cameron directed music videos, even winning an MTV award for his work on Bruno Mars' "Locked Out of Heaven." He traveled back behind the lens to helm the video for "Drinkin' Problem" as well.
Copyright © 2017, ABC Radio. All rights reserved.