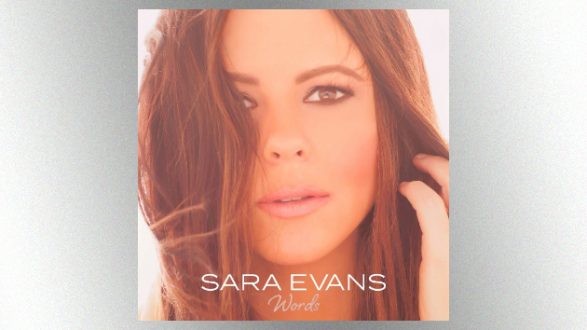 Born To Fly RecordsPlatinum-selling country artist Sara Evans is the epitome of female empowerment. That fact will be on full display when she releases her album Words on July 21.
The project will not only be released on Sara's own record label, Born to Fly Records, but the 14-song collection boasts songs from fourteen separate female songwriters, including Ashley Monroe, Caitlyn Smith, Hillary Lindsey, Hillary Scott of Lady Antebellum, Liz Hengber, and more.
In addition, Sara's current single, "Marquee Sign," features backup vocals from her 14-year old daughter, Olivia Evans.
Starting today, if you pre-order Words at iTunes, you'll be rewarded with instant downloads of lead single "Marquee Sign" and the title track, "Words." Pre-order the album now at SaraEvans.com/Words and receive the songs "Long Way Down," "I Don't Trust Myself" and "Diving In Deep," one every Friday beginning June 30.
Here's the Words track list, with songwriter credits:
"Long Way Down" (Tammy Rodgers / Liz Hengber / Jerry Salley)
"Marquee Sign" (Sara Evans / Jimmy Robbins / Heather Morgan)
"Diving in Deep" (Gordie Sampson / Hillary Lindsey / Steve McEwan)
"All the Love You Left Me" (Ben West / Hillary Lindsey / Gordie Sampson)
"Like the Way You Love Me" (Sara Evans / April Geesbreght / Jason Massey)
"Rain and Fire" (Claude Kelley / Charles Harmon)
"Night Light" (Daniel Tashian / Jaida Dreyer)
"I Need a River" (Marcus Hummon / Darrell Scott / Sonya Isaacs)
"I Don't Trust Myself" (Caitlyn Smith / Gordie Sampson / Steve McEwan)
"Make Room at the Bottom" (Ashley Monroe / Brett James)
"Words" (David Hodges / Jake Scott / Jimmy Robbins)
"I Want You" (Shane Stevens / Victoria Monet)
"Letting You Go" (Sara Evans / Emily Shackelton / Victoria Banks)
"A Little Bit Stronger" (Acoustic version) (Hillary Scott / Hillary Lindsey / Luke Laird)
Copyright © 2017, ABC Radio. All rights reserved