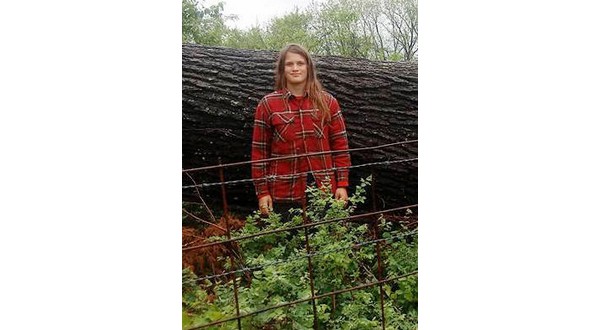 More details were made available Thursday through court documents into human remains found in Ozark County near a home where a teenager went missing in late July. The documents also point to the teenager's mother and new husband as suspects in the teenager's death.
Springfield's KOLR reports a search warrant application notes "lye that may be used to break down human tissue and/or accelerate the cremation of a human body" led to the search of Rebecca Ruud's home in Theodosia Wednesday.
Ruud's daughter, 16-year-old Savannah Leckie, went missing from the family farm.
It was during the investigation of her disappearance when Ozark County deputies first saw the decomposing agent.
Ozark County Sheriff Darrin Reed said Wednesday his department is dealing with someone who's tried to dispose of evidence. He adds, "We're not getting any cooperation from the people that live here."
Along with the burned remains found on Ruud's property, the search warrant says deputies found 20 "boxes" of bone fragments on the farm, a meat grinder and 26 bottles of lye. Also found near the burn pile were several cigarette butts.
While there is no evidence to prove who the burned remains found on Ruud's property belong to, the Ozark County Sheriff's Department confirms evidence is being taken to a state crime lab.
In an affidavit filed by Ozark County Deputy Curtis Dobbs, Ruud has admitted to punishing her daughter by forcing her to crawl through an open hog pen and bathe in a pond on the property. She also admitted to rubbing salt and alcohol into a "suicidal" cut on Leckie's arm.
Meanwhile, Springfield's KY3 reports the search warrants list Ruud and Robert Peat, Jr., her boyfriend, as suspects.
Leckie was adopted at birth by a family in Minnesota, but maintained periodic contact with Ruud, her biological mother. According to court documents, Ruud was told Leckie could not get along with her adoptive mom's new boyfriend and came to live with Ruud. Sheriff Reed says Leckie had lived with Ruud on the rural property on County Road 905 for 11 months.
Court documents say Leckie's living quarters consisted of a pull behind camper trailer with electricity from a generator. Ruud and her boyfriend lived in a 1,850-square-foot metal building. The property is 81 acres, partially wooded and part open fields.
Ruud provided searchers with several of Leckie's personal belongings. But investigators noted Ruud did not provide the computer Leckie regularly used; instead, she sent it to a computer technician to be examined.
Howell County, Missouri records show Peat and Ruud were married Friday, the same day investigators first found human remains on Ruud's property.
Friday investigators seized several items, including a blue shirt, letters from the camper, and items later confirmed to be bone fragments. Canines searched the property, and one alerted on a burn pile, partially covered by fresh leaves, branches and other debris. Investigators found a patch of light colored ash under debris and sifting found what appeared to be bone fragments, two intact human finger bones, a large bone or vertebra and several items that looked like teeth.
On Wednesday investigators seized items including cigarette butts, hair, soil samples, many bone fragments, and a zipper pull. The documents say a dentist with training in forensic anthropology and ondontology believes the bones and teeth are human and were subjected to very high temperatures and had advanced deterioration.
No charges have been filed yet in this case according to the Ozark County Prosecutor's office.
WebReadyTM Powered by WireReady® NSI