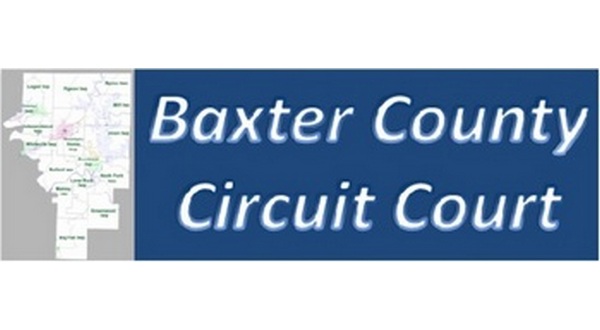 A number of people were put on probation for 48 months after pleading guilty to drug-related charges during a session of Baxter County Circuit Court Thursday.
Charles Hodges of Cotter admitted that he had been in possession of methamphetamine and drug paraphernalia on February 28th.
The 23-year-old Hodges was reported to be loitering around the Cotter Fire Department and "acting extremely strange" and Cotter police were called to investigate. According to the probable cause affidavit, a person told the responding Cotter officer he had seen Hodges remove items from his pocket and throw them in the yard of a residence along Harding Boulevard.
The officer contacted Hodges as he was walking west, put him in handcuffs and returned to the location where the witness had seen Hodges throw items away. According to the affidavit, the officer located two loaded syringes and three small plastic bags containing a white powdery substance. The substance tested positive for methamphetamine.
Rabonna Jones pled guilty to possession of methamphetamine and marijuana as well as being a felon in possession of a firearm.
The 41-year-old Jones was arrested February 14th when officers went to a home along Buford Cutoff Road in Gassville where Jones lived with Venard Deatherage. Both Deatherage and Jones had outstanding arrest warrants.
A search warrant was also served and officers found a small amount of suspected marijuana, a glass pipe commonly used for smoking marijuana and a .22-caliber rifle. Both Deatherage and Jones are convicted felons and not allowed to be in contact with weapons.
Butch Holmes of Mountain Home faced drug-related charges as the result of a traffic stop made by an Arkansas State Police Trooper in early November last year.
The trooper reported approaching the vehicle and talking to the driver, later identified as the 32-year-old Holmes. The trooper said that during the stop, he noticed the "strong odor" or marijuana coming from the vehicle.
When a search was made, the trooper found marijuana, flavored rolling papers, a glass smoking pipe and several Xanax pills in the vehicle.
Holmes was also sentenced under provisions of Act 346, meaning that if he stays out of trouble during his probation period, he can apply to the court to have his record sealed.
WebReadyTM Powered by WireReady® NSI