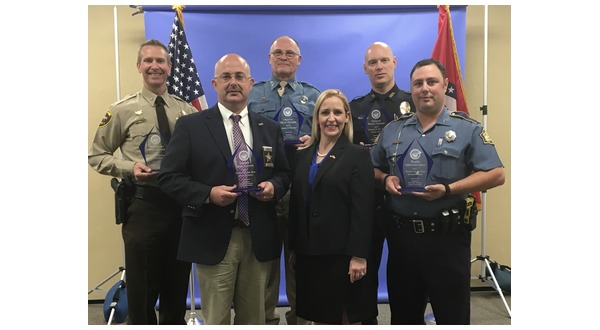 Marion County Sheriff's Deputy Billy Packer was named the Law Enforcement Officer of the Year Tuesday at the 2017 Law Enforcement Summit at Camp Robinson. The announcement came from Arkansas Attorney General Leslie Rutledge. Over 650 officers from across the state attended the summit, which is in its 15th year.On February 19, Deputy Packer was dispatched to a residence regarding an aggravated assault and theft. The suspect, who had recently been released from prison, woke the homeowner, poking a knife in his face and demanding his truck keys. Once the suspect obtained the keys, he traveled to a second residence where he stole another vehicle. Upon locating the suspect at a third residence, Packer discovered the homeowner was being held hostage and had been severely assaulted. The suspect opened fire on the responding officers and Packer returned fire, resulting in the suspect's death.
Packer was nominated by Sheriff Clinton Evans who said, "Packer not only possibly saved the homeowner's life but also his fellow officers' lives and prevented further injuries and crimes."
Attorney General Rutledge says the courage Deputy Packer showed in the face of great danger to protect other officers and the community is remarkable.
Rutledge says, "The events in Las Vegas have tragically reminded us that our men and women who wear the badge run toward danger when we are running away from it. Deputy Packer exemplifies that courage as do all of our regional winners and each outstanding officer in all of Arkansas's 75 counties. It is my honor to recognize many of our brave members of law enforcement today and thank them for their sacrifice."
Regional Officers of the Year included Sharp County Sheriff Mark Counts, Northeast Region, for his efforts to take down a meth lab.
Outstanding officer winners from each county in North Central Arkansas included Corporal Jackie Stinnett, Arkansas State Police, Baxter County; Officer Barry Abney, Salem Police Department, Fulton County; Chief Deputy Earnie Blackley, Izard County Sheriff's Office, Izard County; Patrolman David Faught, Jasper Police Department, Newton County; Officer Michael Patterson, Marshall Police Department, Searcy County; and School Resource Officer Keenan Ray Glenn, Mountain View Police Department, Stone County.
Rutledge gave special recognition to Izard County Sheriff Tate Lawrence, who died in April.
WebReadyTM Powered by WireReady® NSI