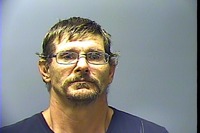 A driver waving his arms while his car crossed into the incoming lane almost sideswiping an oncoming vehicle, has led to his arrest on felony drug charges.
According to the arrest affidavit, law enforcement responded to a call Thursday afternoon after 44-year-old Jayson Alan Sherer of Bull Shoals was observed driving erratically.
A Baxter County Sheriff's Office deputy responding to the call in Gassville observed Sherer driving in the passing lane and weaving in his own lane. He then observed Sherer waving his arms and jerking inside the vehicle. The deputy reported Sherer's car crossed the centerline, barely avoiding a collision with an oncoming vehicle.
Sherer was stopped and provided a Wisconsin driver's license. He appeared extremely nervous, sweaty and unaware his car had almost struck another vehicle. Sherer told the deputy he was unable to participate in field sobriety tests due to a brain injury. However, he did consent later to one test before refusing others.
The affidavit indicates a passenger in the Sherer vehicle said he did not want to ride with him any longer because his driving was scaring him. He said he did not know Sherer and had just caught a ride with him.
Sherer denied drugs were in his vehicle. However, a search led officers to a small pink case containing two syringes, a metal mashing and scraping device, a straw, two rubber arm ties, and a small plastic bag containing suspected methamphetamine residue.
Sherer was transported to the Baxter County Detention Center and has been charged with felony offenses of possession of a controlled substance and possession of drug paraphernalia, as well as misdemeanor charges of DWI first offense, improper lane change and refusal of a blood alcohol content test. His bond was set at $3,500, and he is scheduled to appear in Baxter County Circuit Court later this month.
WebReadyTM Powered by WireReady® NSI