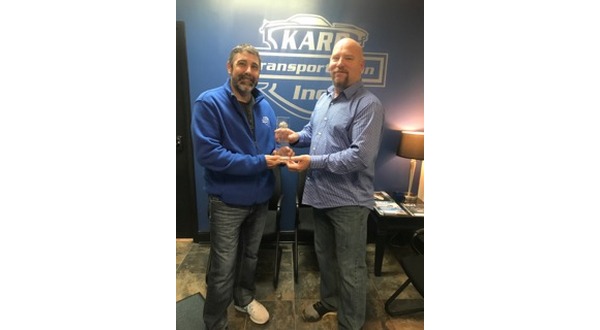 A local company, Karr Transportation, Inc., with offices in Midway, was honored recently with a SmartWay Excellence Award from the U.S. Environmental Protection Agency. Karr Transportation was one of 62 companies to receive this distinction, representing the best environmental performers of SmartWay's 3600 partners. Award recipients are recognized as industry leaders in freight supply chain environmental performance and energy efficiency. The Excellence Awardees were honored at the American Trucking Associations Management and Exhibition Annual Conference held in Orlando.
Karr Transportation demonstrated top environmental performance by effectively hauling all freight with environmentally and energy efficient SmartWay carriers. The company adopted PACCAR Technologies, along with Thermo-King Auxiliary Power Units, to save just over $657,000 to reduce carbon dioxide emissions.
Karr Transportation President, and former driver Albert Beers, says he's been working for years on his company's commitment to the environment through cost savings and fuel reduction using what he calls an ""Excellence in Motion"" motto. Beers says with this distinct award Karr is positioned among the elite SwartWay carriers in the nation including Union Pacific Distribution Services, Gap, Inc., McDonald's and Johnson and Johnson.
Christopher Grundler, Director of the EPA's Office of Transportation & Air Quality says since 2004, EPA and the business community have collaborated through the SmartWay Partnership to reduce the economic and environmental costs associated with goods movement, a vital sector of the nation's economy. Grundler asserts this year's award-winning companies demonstrate they can move more goods, more miles, while using less fuel. In doing so they are doing their part to keep the environment clean and protect human health.
Karr Transportation is a refrigerated carrier Operating throughout the Southeast and Midwest regions, servicing customers such as Wal-Mart, Publix, Kroger, Taylor Farms, Rich Food Products and many other global conscience customers. The company operates a fleet of Kenworth T680's and Utility Trailers with Thermo-King refrigerated units.
For a list of all of 2017's top performers go to http://www.epa.gov/newsreleases/epas-smartway-honors-top-performers-freight-industry-exceptional-supply-chain
WebReadyTM Powered by WireReady® NSI