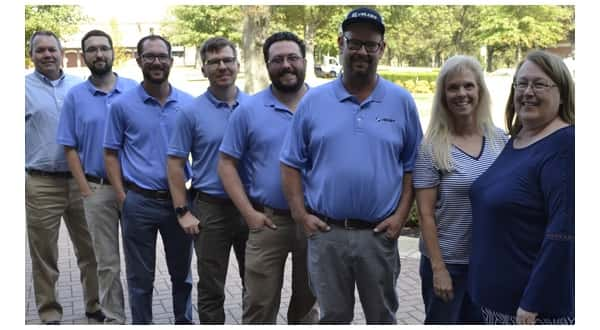 Photo submitted by ASUMH
A group of graduates from Arkansas State University-Mountain Home has found full-time jobs with Yelcot Communications after beginning their employment as part-time summer help.
Yelcot's prior success with the colleges' graduates led company officials to contact ASUMH when the additional employment opportunities became available.
The transition from part-time summer help to full-time employment began when Yelcot expanded its offerings in the marketplace and reached out to ASUMH for recommendations of college students. The part-time role consisted of pulling cable and installing equipment.
Shawn Lane, Yelcot Plant Manager, says the positions were just meant to be temporary summer jobs. However, Yelcot quickly realized this group of students was highly qualified for long-term employability with the company.
Sara Zimmerman, Yelcot President, says Yelcot has recently expanded its business to include managed IT services. These services allow businesses to offload their information technology operations to Yelcot. Yelcot assumes an ongoing responsibility for 24-hour monitoring, managing, and backup and/or problem resolution for the IT system within a business.
Lane says the new managed IT services were a natural fit for this group of graduates. Yelcot capitalized on each graduate's strengths and placed him in a position where those strengths could be utilized. Because the graduates were classmates while attending ASUMH for the Information Systems Technology degree with a Networking Specialist emphasis, the students developed a professional rapport with each other.
Yelcot officials recognized this relationship and worked to bring this cohesiveness and synergy to the workplace, along with the various technical skill sets of the graduates.
Lane says the new employees had the ability to work independently, but also to collaborate within a team environment.
Kib Cochran, Yelcot Account Manager/IT Solutions Expert, says the knowledge he acquired in the Cisco Network Academy and CompTIA A+ courses gave him a jump-start in his job. Dave Altenbaumer, Central Office Technician, says his previous knowledge in telephony and the technology-related courses contributed to his abilities to perform his current job duties. Other graduates commented the network and computer security courses, IP subnetting, troubleshooting, and cabling added to their technological capabilities, as well as the personal /soft skills they learned from the networking internship course.
Zimmerman says the demand for skilled network and computer support professionals in the workforce continues to grow. She says not only do prospective employees need to possess the technical expertise in addition to problem-solving skills, initiative, and effective time management, but soft skills as well, such as the ability to communicate with customers.
Yelcot has found the Computer Information Systems department at ASU–Mountain Home combines education and technology to produce global thinkers that meet the needs and challenges of the new digital economy. For more information, contact Shawn Dennis, ASUMH Computer Networking Faculty member, at (870) 508-6174.
Photo: (left to right) Shawn Lane, Yelcot plant manager; Yelcot employees Cody Partee, Erik Friedman, Kib Cochran, Mason Basford, Dave Altenbaumer; Shawn Dennis, instructor at ASUMH; Sara Zimmerman, Yelcot President
WebReadyTM Powered by WireReady® NSI