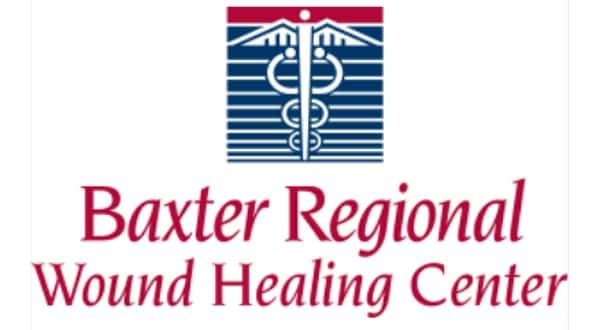 Leaders, physicians and clinicians of the Baxter Regional Wound Healing Center were recently recognized by the nation's largest wound care management company. Healogics presented the center with the Robert A. Warriner III Center of Excellence Award given to wound care centers meeting the highest level of quality standards for at least two consecutive years.
The award was named after Dr. Robert Warriner, a pioneer in wound care and hyperbaric oxygen therapy. Throughout the United States, 334 centers were eligible this year, and 169 centers received the award based on their key performance indicators for 2016. The award criteria includes patient satisfaction rates higher than 92 percent, a healing rate of at least 91 percent in less than 31 median days and patient outlier rates below 19 percent.
The Baxter Regional Wound Healing Center is a member of the Healogics network of nearly 800 wound care centers with access to benchmarking data and proven experience treating nearly 2.5 million chronic wounds. The local center offers highly-specialized wound care to patients suffering from diabetic ulcers, pressure ulcers, infections and other chronic wounds not healing in a reasonable amount of time.
We are fortunate to have the resources available to accommodate the growing needs of the community," said Jamie Manes, Baxter Regional Wound Healing Center Program Director. "Our excellent team of staff and physicians strive to provide quality care with successful outcomes to all patients. We are honored to receive this award consecutively the past three years. There is no greater reward than seeing a patient heal after months or even years of dealing with chronic wounds. The team at the Baxter Regional Wound Healing Center extends our gratitude to the communities we serve for allowing us to be your healers."
The Baxter Regional Wound Healing Center opened its doors over 11 years ago with four treatment rooms and two hyperbaric oxygen chambers. It expanded in 2011 with the grand opening of a new facility with five treatment rooms and a third hyperbaric oxygen chamber, and added a fourth chamber last year.
WebReadyTM Powered by WireReady® NSI