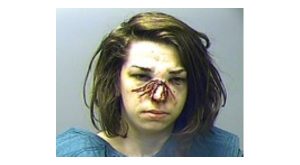 Vanessa Henschel stood partly mute before Circuit Court Judge Gordon Webb Thursday and received another warning from the judge -- whether she speaks or not is her decision, but it will make it difficult for her defense attorney to adequately represent during her trial.
Her lawyer, Mark Cooper who is representing Henschel as a public defender, told the court he recently visited Henschel at the Baxter County Detention center to prepare her defense, but Henschel refused to speak to him.
In several pre-trial appearances, Henschel did not speak at all, but she did manage a yes or no to a couple of questions during Thursday's court session. At one point, Judge Webb asked Henschel if she had anything to say on her behalf and she replied "no" in a soft voice.
Judge Webb said he was not going to give Henschel any special treatment because she had chosen to remain mostly mute during pre-trial appearances and meeting with her defense attorney.
Henschel was given a psychological examination but it had to be aborted when she refused to follow the evaluation protocol, was uncooperative with the examiner and "oppositional" to the point that the examination could not be completed.
Henschel was told that -- talk or not -- her trial, now set for the week of January 8th, would go on.
The 25-year-old Henschel has had problem dealing with authority while in the state prison system. During a recent stay in the McPherson Unit of the prison system in Newport, she racked up 30 disciplinary infractions.
Henschel was arrested after she is alleged to have stabbed a person in a room at the Town and Country Motor Inn in early 2016.
Mountain Home police were dispatched to the motel on a report that there had been a stabbing in one of the rooms. Investigators indicated that Henschel had gone to the motel to speak to the victim with whom she had a previous friendship. She was let into the room by the victim's boyfriend. The boyfriend then left the room to retrieve articles from a vehicle when he heard screaming coming from the room.
He ran back into the room and said he found Henschel astride his girlfriend stabbing her. The boyfriend struck Henschel knocking her off the victim. Henschel's booking picture clearly demonstrates that she had been hit.
The victim received non-life-threatening injuries to her neck and upper torso. She was taken to Baxter Regional Medical Center for treatment.
The victim told officers there was no conversation between her and Henschel prior to the attack. She said she was lying in bed when Henschel jumped on top of her and started stabbing her while saying, "I'm sorry," throughout the duration of the attack.
WebReadyTM Powered by WireReady® NSI