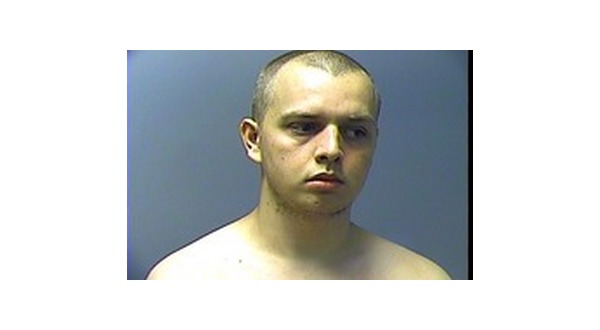 Blaze Forrester who faces battery charges for fighting with people inside and outside the Baxter County Jail will undergo a second psychological evaluation -- this one paid for by the Public Defender Commission.
An evaluation has already been done by the state, and since the case In Baxter County Circuit Court has proceeded beyond the report on that initial evaluation when it was received, it can be assumed he was found fit to proceed.
The first set of charges against Forrester were filed after he became angry with his elderly grandfather who told him to put a shirt on before leaving the house, and he began punching the older man repeatedly about the face and head. The victim told law officers he did not believe his grandson was ever going to stop hitting him.
Officers interviewed the 22-year-old Forrester and he allegedly admitted he had become angry with his grandfather, and he struck his relative several times. In the probable cause affidavit filed in the case, officers reported when the grandfather came to the Mountain Home Police Department to report what had happened, he was bleeding from a cut over his left eye and from a cut on his left hand.
Forrester was arrested May 31st on charges related to the attack on his grandfather.
While in jail, Forrester is alleged to have punched a jailer while the officer was moving the inmate from C-Pod to the detox cell for his own protection. It was reported Forrester had been spitting on the floor in the C-Pod area, and other inmates were threatening to beat him up.
After being hit by Forrester, the jailer went behind the booking counter to get a taser. When Forrester saw the taser, he is reported to have run into the detox cell and slammed the door behind him. The jailer told Forrester to get on the ground, but the inmate refused. The jailer opened the door to the detox cell, and Forrester was reported to have charged the jailer who then deployed the taser against the inmate.
Forrester ran down the hall toward the housing area until he fell in front of a bathroom door and began yelling, "I'm done, I'm done." When the jailer turned the taser off, Forrester grabbed the lead wires and pulled on them breaking the connection.
When the jail went for another taser, Forrester took the opportunity to run into the multi-use room and close the door behind him, holding it shut.
A number of law officers arrived on the scene and assisted the jailer in opening the door, subduing Forrester, placing him into a restraint chair and then moving him into the detox cell.
WebReadyTM Powered by WireReady® NSI