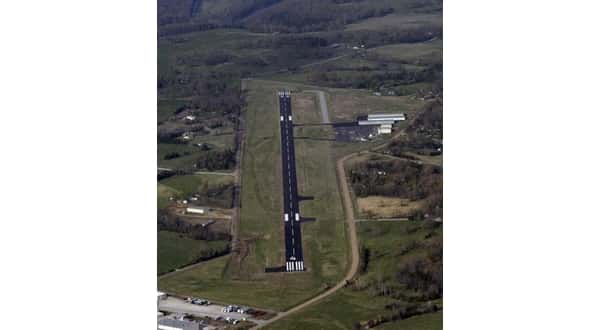 The Marion County Regional Airport in Flippin is facing an uncertain future in the midst of technology upgrades which, if not addressed, could make the airport obsolete. The Federal Aviation Administration is shutting down VORs across the United States and Marion County Regional Airport is on the list.
A Very High Frequency (VHF) omni directional radio (VOR) is a type of short-range radio navigation system for aircraft which helps determine a fixed position and assists planes to stay on course by receiving radio signals transmitted by a fixed ground beacon. A 2012 PowerPoint Presentation by the FAA can be found at https://www.faa.gov/air_traffic/flight_info/aeronav/acf/media/Presentations/12-01_Discon-of-VOR-update.pdf which says traditional VOR's are inefficient and costly.
Area navigation (RNAV) is steadily replacing the older VORs. The newer technology is a method of navigation which permits an aircraft to operate on any desired flight path rather than only along tracks between individual ground navigation aids (VOR'S). RNAV allows an aircraft's position to be continuously determined wherever it is.
Marion County Regional Airport Manager David Davis says VORs were developed around World War II and were in wide use in the 1950's.

Listen:


Davis says the possibility exists the FAA could take out the Flippin VOR and not replace it with an RNAV system which could hurt business.

Listen:


Davis recalls years ago the FAA discussed putting in a Global Positioning System Interrogator Unit at the airport, however he says it hasn't been done and he is not aware of any immediate effort.
The FAA reserves funds for the different classes of navigational equipment and the majority of those funds are going toward upgrading with RNAV. Davis thinks it would be a good idea for VORs still frequently used, like Flippin's, to be kept around as a backup in case the satellite systems malfunction.
Pilots dependent on VOR's will have to upgrade to the more expensive RNAV equipment.
The FAA anticipates all of the VOR's on their list to be phased out by 2020 at the latest. Davis says the facility could be shutdown completely before then if there is no response from the general public and the flying community.
Davis encourages pilots and other citizens to contact the FAA to voice their concerns so that doesn't happen. A starting point is at the contact information page at https://www.faa.gov/contact/ .
The Marion County Regional Airport is one of the oldest airports in the Twin Lakes Area established in the 1920s and developed by the Corps of Engineers during the construction of the Bull Shoals Dam beginning in 1947.
WebReadyTM Powered by WireReady® NSI