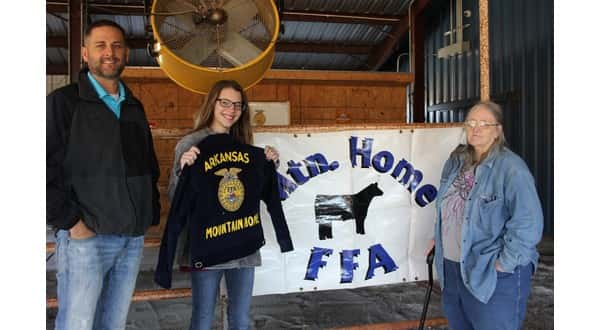 The Mountain Home Future Farmers of America (FFA) recently announced Kathleen Ambrose is the winner of the 500 pound steer donated by Farm Credit of Western Arkansas. First year FFA member, Joi Lynn Keil sold the winning ticket and will receive a free FFA Jacket and $250 credit towards FFA merchandise and travel.
FFA members are selling 20 pound boxes of frozen chicken, breaded seasoned strips for $40. and boneless skinless breasts for $45 to raise funds for the student organization. Area residents may see any FFA member to place an order or call 870-404-0432.
The National FFA Organization provides leadership, personal growth and career success training through agricultural education to 610,240 student members who belong to one of 7,665 local FFA chapters throughout the U.S., Puerto Rico and the Virgin Islands.
The Mountain Home FFA was established in 1938 and is a local youth organization of active student members grades 8 through 12, plus college. It is a three teacher program with over 350 students enrolled in agriculture education at the local level. More information can be found by visiting the Mountain Home FFA online on Facebook, Twitter and Instagram.
The National FFA Organization is a youth organization of 610,240 student members as part of 7,665 local FFA chapters in all 50 states, Puerto Rico and the Virgin Islands. The FFA mission is to make a positive difference in the lives of students by developing their potential for premier leadership, personal growth and career success through agricultural education. The National FFA Organization operates under a federal charter granted by the 81st United States Congress and it is an integral part of public instruction in agriculture. The U.S. Department of Education provides leadership and helps set the direction for FFA as a service to state and local agricultural education programs. For more information on the program nationally, visit the National FFA Organization online at FFA.org, on Facebook, Twitter and the official National FFA Organization blog.
The National FFA Foundation builds partnerships with industry, education, government, other foundations and individuals to secure financial resources that recognize FFA member achievements, develop student leaders and support the future of agricultural education. Governed by a 19-member board of trustees comprised of educators, business leaders, individual donors and FFA alumni, the foundation is a separately-registered nonprofit organization. About 82 percent of every dollar received by the foundation supports FFA members and agricultural education opportunities. For more information visit FFA.org/Give .

Kathleen Ambrose and Joi-Lynn pictured with Dan Benton, Vice President of Farm Credit Western Arkansas.
WebReadyTM Powered by WireReady® NSI