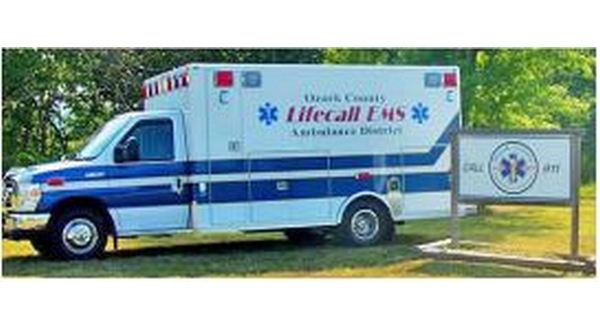 Financing for the construction of a new base for the Ozark County Ambulance District has been secured, with paperwork signed last week for a $300,000 loan that will fund the project. Plans call for the new base to be built on the same site as the district's current building, which was condemned after hazardous mold was detected there in late 2015.
The Ozark County Times reports Board President Ray Peter says the district plans to construct a 1,680-square-foot building with the funds secured from Central Bank of the Ozarks in Nixa.
The new structure, which will include office space, sleeping rooms for ambulance personnel, two bathrooms and a conference room, will be about half the size of the district's current building. Peter says the smaller building is all the district could afford. Earlier this year, voters rejected a proposed tax levy increase for the ambulance district.
After ambulance personnel complained of health problems in 2015 and earlier, the district brought in a hazardous materials specialist to investigate the old building on County Road 806 west of the Ozark County Sheriff's Office. The hazmat inspector found elevated levels of nine types of hazardous mold throughout the building, a native stone and concrete structure thought to be at least 75 years old. The inspector recommended the structure be demolished, and the ambulance district is currently soliciting bids for its demolition.
Since the building was condemned, ambulance personnel have been working out of a three-bedroom mobile home behind the current, condemned building on the district's property.
Peter says the district has made arrangements with Morton Building Co. and Municipal Development and Funding to construct the new building. He says the district will rent the building from them for 15 years for $24,000 a year. At the end of those 15 years, the district will own the building.
Peter says it's not known when the new building might be completed, with the existing structure having to be removed before construction of the new facility can begin.
He commended the dedicated professionals who work for the ambulance district, noting they could receive substantial additional compensation in Springfield or other larger places.
WebReadyTM Powered by WireReady® NSI