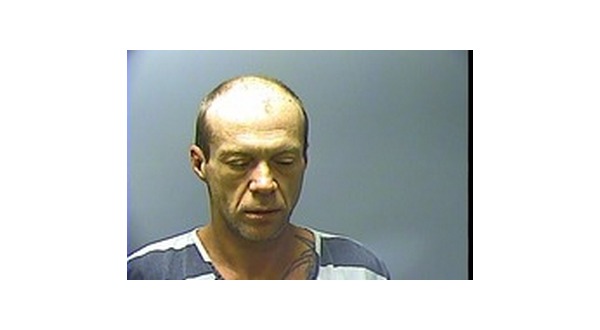 Ronald Aaron Love, who went on an alcohol-fueled rampage apparently after being told he paid too much for an item he had recently purchased, made a first appearance in Baxter County Circuit Court Thursday. He entered a not guilty plea to a long string of charges associated with the November 25th event.
In the probable cause affidavit, the investigating officer reported Gassville police officers responded to an address along Sagewood Court about 5:00 Sunday evening in answer to several calls about an out-of-control male.
When the officers arrived, they met the 46-year-old Love who exited his severely damaged, inoperable vehicle and assumed a position with his hands behind his back to enable the officers to handcuff him. The officers reported Love was extremely agitated and clearly intoxicated.
The investigating officers determined it was apparently the remark about overpaying for a certain item that set events in motion.
After Love hit the first man, he then made an attempt to attack a second victim with an ax handle. The second victim was able to wrestle the ax handle away from Love, serving only to increase the level of Love's anger and agitation.
Love then got into his vehicle and used it as a battering ram, slamming into the front of the residence several times. In his rampage, Love hit another vehicle parked at the residence and did major damage to both the vehicle and the garage. The owner of the vehicle hit by Love said she feared for her safety and Love was apparently trying to run over her. She said she jumped out of the way, but was struck by the door and mirror of Love's vehicle causing her injury.
Another victim was standing on a wooden ramp in front of the house. The ramp buckled, and the victim was hit with a board.
All of those injured in the rampage refused medical attention. There were several children in the house or in the immediate vicinity at the time, but none was injured. However, Love's charges do include several counts of endangering the welfare of a minor.
Andrew Bailey, who represents Love, told the court he most likely will ask for a mental evaluation of his client. While there was discussion about the amount of Love's bond, now set at $100,000, and about the wisdom of allowing him to return to the house where the rampage took place, no definite decisions were made. Love is to reappear in Circuit Court January 18th.
Love is charged with battery, criminal mischief, terroristic threatening and driving while intoxicated. In all, Love now faces 14 charges -- some misdemeanors and some felonies.
WebReadyTM Powered by WireReady® NSI