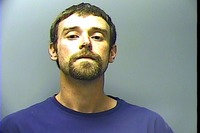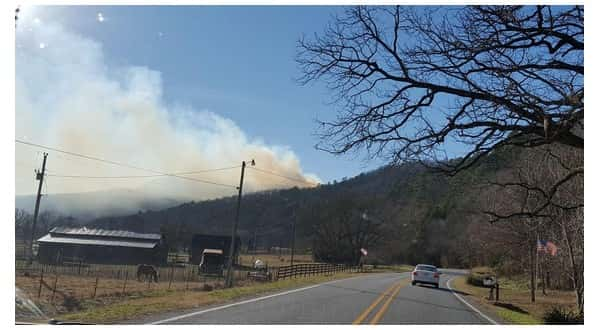 Smoke from the two fires seen from Boxley Valley (Photo: Ponca VFD)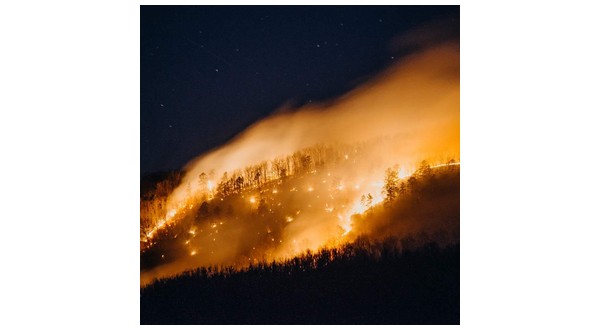 Nighttime fire near Boxley Valley. (Photo: Buffalo Outdoor Center)
Firemen from at least nine departments responded to a series of brush fires across Baxter County Monday beginning about 11:30 a.m., with one person reported injured at Lakeview and one person charged with violation of county burn ban criminal mischief
Baxter County Sheriff John Montgomery says his department and the Tracy Volunteer Fire Department were called to 6032 County Road 55 for an out-of -control fire about 12:45 Monday afternoon.
When a sheriff's deputy arrived, the fire had already spread onto the neighbor's property.
The deputy made contact with 36-year-old Joseph Young who admitted to burning boxes, and the fire got away from him and spread.
While the deputy advised Young to stay there while he assisted the fire department, when he returned the Mountain Home man had left the scene.
A check of  the Arkansas Crime Information Center revealed Young had an outstanding warrant out of the Gassville Police Department, and his driver's license was suspended. Phone contact was made with Young, and he drove back to the scene with his teenage daughter. Young was placed under arrest and transported to the Baxter County Detention Center. The daughter was arrested on outstanding warrants and turned over to Baxter County Juvenile Services.
Young's charges also included second degree driving on a suspended license. He is currently being held on $2,535 bond pending his appearance in Baxter County District Court in January.
Oakland Promise Land firemen responded to a blaze at 84 Jeanne Lane Road, off of County Road 118 in Marion County. The Clarkridge and Midway departments, along with the Arkansas Forestry Commission, rendered mutual aid in the fire that threatened a shed. The Chief of the Oakland Promise Land Volunteer Fire Department , Ron Everroad, says firefighters fought the blaze for approximately six to seven hours.
Everroad reminds the public to not burn as a burn ban is still in effect and conditions remain hazardous.
A short time later, Tracy firemen were on the scene at 6032 Old Military Road. That fire reportedly jumped the road to 6028 Old Military Road. The Salesville, Buford and Mountain Home departments rendered mutual aid in the fire that reportedly threatened several structures at one point.
Grover Township Firemen responded to a structure fire at 239 Cove Road in Lakeview where an unidentified female was reportedly injured. Midway firemen also rendered aid in this blaze. No further details on this fire were available at news time.
About 2:40, Norfork firemen responded to a possible brush fire near the Norfork Dam, after smoke was reportedly seen in that area. However, firemen were unable to confirm the possible brush fire. Then, about an hour later, Norfork firemen were back out. This time a brush fire was reported on Highway 5 South at 1957 Moccasin Creek Road near the county line. Firemen from Izard County and the Arkansas Forestry Commission were also involved in this blaze.
On Sunday, around midday, two separate fires were reported along Arkansas Highway 21 on the north side of Boxley Valley in Newton County, involving a combination of private and national park lands.
Monday afternoon, the Whitley and Edgeman fires had coalesced into one fire and continue to burn within the containment zone, while firefighters work to reinforce the zone with hand-lines and mechanical line construction. Much of the containment efforts are on near vertical hillsides in very rough terrain.
The public information officer with the Buffalo National River, Caven Clark, says it will be Tuesday until an estimate of acreage burned is available. Response has been directed by Buffalo National River's Fire Module, with on-the-ground assistance of the Arkansas Forestry Commission and the Compton Volunteer Fire Department.
Clark says although the wildfire is still burning, it is staying within the designated containment area in spite of very high winds and dry fuel. There have been no reports of injury and no damage to property at this time. The cause of the two fires remains under investigation.
Monday morning, the Whitley Fire was estimated at 50 acres, and the Edgeman Fire was estimated to be 15 acres.
Crews from Buffalo National River's Fire Module, Arkansas Forestry Commission, and the Deer, Ponca, and Mount Sherman volunteer fire departments provided initial response.
Fire crews were pulled at 8:00 Sunday night for their own safety. As of Monday morning, containment was estimated at 10 percent.
WebReadyTM Powered by WireReady® NSI