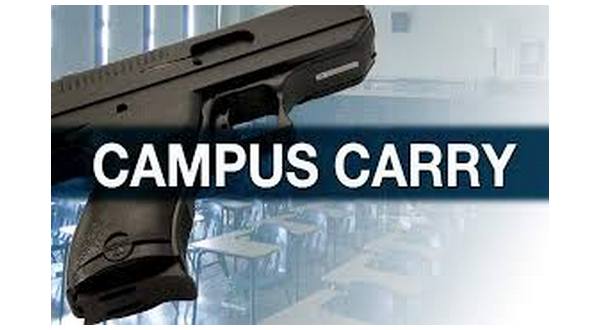 Efforts to expand the state's concealed carry legislation took four years to gain passage. But when the Arkansas legislature adjourned earlier this year the state was now the 10th in the nation with a campus carry law.
The new enhanced concealed carry law morphed out of a bill originally intended for faculty and staff at public universities. But tweaking of the bill in the Senate led to expanded locations and enhanced training requirements.
The new enhanced concealed carry law created a special licensing program allowing permit holders to bring weapons not just to public college campuses but to certain government buildings and bars. With its passage, legislators forged a compromise requiring State Police to set training guidelines within 120 days upon the law's effective date on September 1st.
The new law quietly faded from the news until last week when the State Police's newly drafted rules reached the legislature's Administrative Rules and Regulations Committee Tuesday, where Senator Scott Flippo of Bull Shoals holds membership.
By Friday when the rules reached the full Legislative Council, the governing body when lawmakers are not in session, Senator Flippo says it became a circus-like atmosphere. He says there were multiple motions and a great deal of confusion. However, ultimately, the State Police rules were approved. Senator Flippo says he joined the prevailing side of the measure he described as far from perfect.

Listen:


Passage also required additional training, not just for those wishing to secure an enhanced permit, but for all of the state's 1,100 certified concealed carry instructors. If the instructors fail to secure the additional training, they lose their certification.
Senator Flippo says he is concerned about this instructor training based on the feedback he is receiving.

Listen:


Senator Flippo says he is confident when the General Assembly convenes remaining issues with the new law will be addressed.
Two questions remain. When the legislature convenes in 2018 it will be for a fiscal session, requiring approval of two-thirds of the membership in both chambers to address legislation other than those dealing with the budget. Short of waiving the rules, that would mean it will be 2019 before considering amendments to the new law.
The second question regards the State Police. Senator Flippo says it remains to be seen if the State Police will begin pulling the licenses of those instructors who do not step forward to complete the enhanced training or wait until the legislature has the opportunity to address the measure.
According to State Police, Arkansas is home to nearly 225,000 concealed handgun license holders.
WebReadyTM Powered by WireReady® NSI