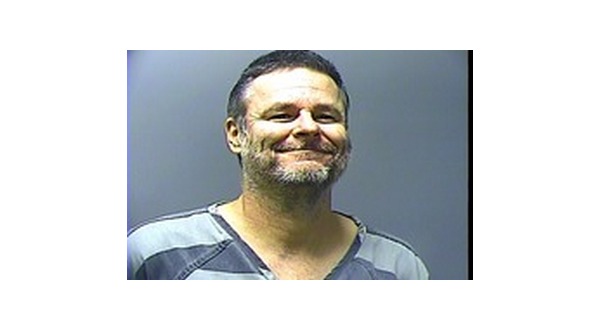 Jerry Hopper, Jr., of rural Mountain Home entered a not guilty plea to new charges of kidnapping and domestic battery during a session of Baxter County Circuit Court Thursday.The 44-year-old Hopper was ordered to reappear in Circuit Court January 18th.
The new charges were filed after Hopper allegedly refused to allow a female to leave his home and physically attacked her.
The incident took place in late November last year. Hopper is alleged to have contacted a woman with whom he had a relationship telling her he had quit drinking and was undergoing withdrawal symptoms, such as nausea.
The woman told investigators she had brought several items -- including soup and nausea medicine -- to Hopper's residence.
She said that while at the residence Hopper became belligerent. The victim reported that Hopper would not allow her to leave. She said when she did attempt to leave the residence, Hopper grabbed her by the throat with both hands, pushed her across the room, threw her onto a couch, jumped on top of her and hit her on the left side of her face.
The victim said she tried to get up several times but Hopper restrained her. She said she was finally able to get out of the house and into her car.
The victim reported she was "terrorized, injured and caused to endure pain" for a majority of the 45 minutes she was at Hopper's home.
According to court records, the victim had a bruised left eye, bruises on both sides of her throat as well as on her neck and arms and a bite mark on her hand. She showed investigators text messages, Facebook posts and two short videos in which Hopper was reported to have apologized for the incident and begged the victim not to press charges.
Hopper also picked up charges in Greene County in the northeastern part of the state for terroristic threatening and first degree stalking. The charges in that county were filed in 2015 and stemmed from alleged threats Hopper made to a woman reported to be an ex-girlfriend who lives in Paragould.
He also faces revocation of a suspended sentence handed down in Baxter county stemming from a high speed chase in 2015 which ended with Hopper barricading himself in his home and inviting police officers to shoot him. He was talked into coming out of the house by an acquaintance. Hopper was given four years probation in both Greene and Baxter Counties.
Hopper has entered a "not true" plea to the Baxter County revocation.
WebReadyTM Powered by WireReady® NSI