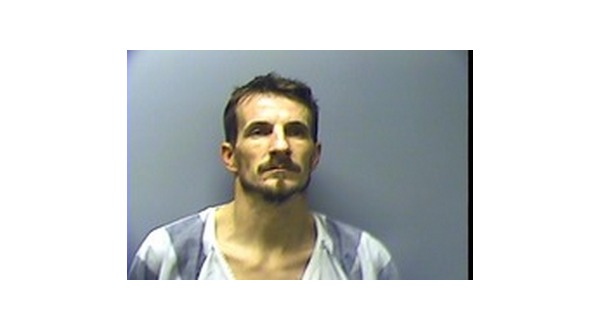 A 37-year-old man, whose last known address is in Valley Springs, was arrested on residential burglary charges Monday morning after Sheriff's deputies responded to a report of an open garage on 943 Buford Road. The home is located off Highway 126, south of American Stitchco Inc. Baxter County Sheriff John Montgomery says Brandy Brian Barnes faces multiple felony charges in connection with the incident with bond set at $35,000.
According to Montgomery, Corporal Doug Meurer responded to the residence, where a previous burglary had been reported, Friday. Upon his arrival, he observed a single set of footprints coming from the ditch to the south of the residence. The garage door was up slightly and being held up by a five gallon bucket. Corporal Meurer heard movement in the garage and noticed the door on the residence was also open.
He ordered whoever was inside to come out and notified Sheriff's dispatch to send back-up units. While waiting for the back-up units, Meurer heard a loud commotion inside the house as if someone was trying to kick open a door. He went to the back side of the residence and observed a man, later identified as Barnes, wearing camouflage pants running north. Barnes went over a barbed wire fence and ran along the side of an RV, parked at a different residence, in an attempt to hide underneath the vehicle.
Meurer and Sergeant Brian Davis were able to take Barnes into custody. During a search of Barnes, two sets of pistol grips were found, as well as a pocket watch, a wrist watch, a zippo lighter, and a case containing several pair of cuff links.
He was transported to the Detention Center, while deputies returned to the residence. By the open door, they found a large pile of ammunition, ammunition cans, fishing poles, tackle boxes, canned goods, and other items. The residence had been ransacked inside. In the kitchen, deputies found a backpack containing a laptop computer, ammunition, a hammer, a pry bar, and a loaded Smith and Wesson pistol.
Barnes faces felony charges of residential burglary, theft of property and possession of a firearm by a convicted felon. He also faces other misdemeanor charges.
Montgomery says Barnes has been booked into the Baxter County Detention Center a total of eight times since 2011.
WebReadyTM Powered by WireReady® NSI