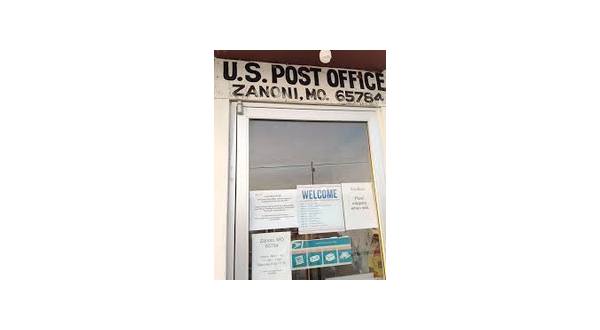 The U.S. Postal Service plans to spend approximately $270,000 to reopen a post office facility in the Zanoni area. The announcement came last Monday by USPS real estate specialist Vee Spikes at a meeting held at the Gainesville post office. Zanoni is an unincorporated community located about 10 miles northeast of Gainesville.
The Ozark County Times reports officials say the new facility will be open two hours a day during the week and four hours on Saturday and will be operated by a part-time USPS employee who is expected to earn about $12 per hour.
Gainesville postmaster Jeff Elliott says before USPS closed the Zanoni post office in February 2016 under what it called an "emergency suspension," the facility's revenue averaged between $500 and $600 per year. The Gainesville post office now manages delivery of mail to the 40 postal patrons with Zanoni addresses.
USPS officials reportedly outnumbered residents at Monday's meeting. The purpose was to discuss the planned reopening of a post office in a modular building to be installed when a suitable 8,500-square-foot tract of land can be identified and leased.
The proposed new modular 500-square-foot building will serve as a "retail-only" facility, selling stamps, accepting packages and renting mailboxes. The mailboxes would be accessible only during business hours, unlike the Gainesville post office, where the mailboxes are accessible 24/7.
Spikes said the importance of a post office in an area is critical. If the post office isn't there, the town dies. He told the small crowd the importance of having a post office is whether their community will exist another 10 to 15 years. Yes, it's an expensive project. But he said the USPS is assuming this responsibility. They're looking to invest in the Zanoni community.
Spikes said if the community doesn't want the post office, residents can notify the county commissioners, who should then relay that information to him. Otherwise, he said, he expects the new facility to open in about six months.
The lot site should be capable of allowing a building and eight to 10 parking spaces or parking available on the street that may be altered to meet handicapped accessibility standards, if necessary. The land must be clear of all debris with access to water and/or electricity." The deadline for proposing a tract of land is February 8th.
WebReadyTM Powered by WireReady® NSI