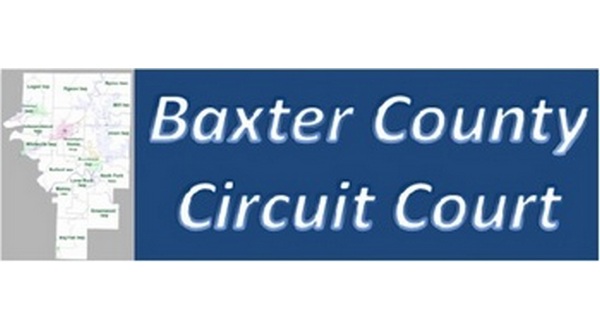 The January 18th session of Baxter County Circuit Court saw a crowded courtroom and a lengthy docket.
The session, which began at 9:30 a.m. and did not wrap up until after 7 p.m., saw a large number of people accept plea agreements with some being given prison time.
Charles Franks of Mountain Home was sentenced to 12 years in prison with eight to serve and four suspended. The 33-year-old Franks was facing drug-related charges in two cases that were filed against him -- one late last year and one in 2016. Franks has had a string of mainly drug-related charges lodged against him. He has spent time in the state prison system on a number of occasions.
Jeremi Witt of Mountain Home was given seven years in prison after he washed out of the 14th Judicial District Drug Court Program. The 37-year-old Witt was accused of using methamphetamine while in the program, failing to report for Drug Court group counseling and failing to submit to random drug testing as required.
Mary Jackson of Mountain Home was sentenced to six years in prison with six years suspended after she entered a guilty plea to charges of residential burglary and attempting to bring marijuana into the Baxter County Detention Center. According to court records, the 33-year-old Jackson took property, including a 2005 Chrevrolet Equinox, from a home in Lakeview in late July last year. The value of the stolen property was listed as almost $13,400. In addition to prison time, Jackson was ordered to pay restitution to compensate the victim. She picked up another charge in July when she was caught by a female jailer trying to smuggle marijuana into the jail.
Walter Pittaway of Mountain Home was given four years in prison after admitting he had violated the terms and conditions of his probation. The 39-year-old Pittaway was put on probation on charges stemming from an incident in which he was found passed out by the pool at a local motel in mid-November 2016. When police arrived, they found Pittaway had a vodka bottle and a knife lying next to him. He was also found to have methamphetamine and a small amount of marijuana in his possession. A petition to revoke his suspended sentence was filed in late October last year in which Pittaway was accused of failing to meet several of the terms and conditions of his probation, including not reporting to his probation officer for a schedule office visit, being behind in paying fines and supervision fees and not maintaining contact with the probation and parole office as required. At the time the petition was filed, Pittaway's whereabouts were unknown.
Daniel Martinez of Mountain Home was given three years in prison after admitting he had taken and used a stolen debit card to make ATM withdrawals on several occasions. Video surveillance at one of the locations where the card was used showed the 30-year-old Martinez, who is described as being well know to law enforcement, using the stolen card. In another incident, Martinez was charged with taking checks from another victim, forging and passing them at area businesses.
In the probable cause affidavit, Martinez is described by investigators as having a lengthy history of convictions ranging from shoplifting to burglary.
WebReadyTM Powered by WireReady® NSI