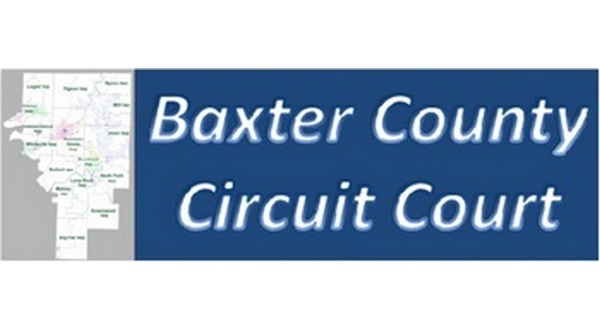 A number of people were put on probation during a busy session of Baxter County Circuit Court January 18th.
Cody Mills of Midway was given 10 years probation after he entered a guilty plea to charges he made methamphetamine sales to a person working with law enforcement in April 2014.
According to court records, police located Mills and questioned him in late June 2015. Mills was reported to have admitted he made the methamphetamine sales because he was experiencing financial difficulties and needed money. Mills said he "normally" used marijuana but did, on occasions, also use methamphetamine with his friends.
The 23-year-old Mills entered and completed a year-long residential rehabilitation program in mid-November last year, according to court records.
Joshua Dicks of Gassville and Breanna Perrine of Gamaliel were both given four years probation in unrelated cases.
The 22-year-old Perrine pled guilty to participating in the passing of stolen checks at least five times. According to court records, Perrine was one of three people involved. The trio admitted to their part in taking and forging the stolen checks according to the probable cause affidavit filed in January. The stolen checks were obtained sometime in the middle of December last year.
Perrine was sentenced under provisions of Act 346 meaning if she stays out of trouble during her probation period, she can apply to the courts to have her record sealed.
Dicks was arrested when Mountain Home police responded to a report of a burglary in progress. The homeowner said she found a male -- later identified as Dicks -- in her garage and that he had been armed with a hunting knife.
When the home owner confronted him, Dicks fled. He was eventually arrested and police found several tools, drug paraphernalia and a small plastic bag containing suspected methamphetamine in his backpack. Dicks was charged with possession of drug paraphernalia related to the ingestion of methamphetamine, fleeing from police and criminal trespass.
Dicks was accepted into a year-long rehabilitation program in early October 2016.
Wayne Willett of Mountain Home was sentenced to three years probation after he entered a guilty plea to charges that he had marijuana in his possession when officers served a search warrant on a residence along Rossi Road in February last year.
According to the probable cause affidavit, officers found approximately one pound of marijuana and a number of firearms in the residence. Willett told Judge Gordon Webb that the weapons found by police did not belong to him, but his attorney, Sam Pasthing of Flipping, said Willett did have what is known as "constructive possession" of the guns, meaning they were in the residence and available to him whether he held actual ownership or not.
Several of the original charges in the case -- including the simultaneous possession of drugs and firearms -- were dismissed by the state as part of the plea agreement.
WebReadyTM Powered by WireReady® NSI