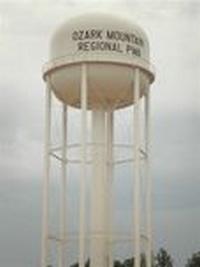 A local water treatment plant operator is accused of falsifying water quality reports. According to Arkansas Democrat-Gazette reporter Andy Davis, Matthew Mosley of the Ozark Mountain Regional Public Water Authority had his license revoked Thursday by the Arkansas State Board of Health after its members unanimously approved a committee's finding claiming he submitted false reports on water turbidity, or cloudiness, to the Arkansas Department of Health.
During an audit last year, the department found data from the plant's equipment indicated turbidity limits were exceeded in some instances, and the findings had not been reported to the department. The United States Environmental Protection Agency states high turbidity levels are often associated with the presence of viruses, parasites and some bacteria.
In its findings, the department's licensing committee accuses Mosley of knowingly submitting false turbidity data in monthly reports in December 2016 and 2017, supplying false turbidity data from 2015 and 2016 and violating a requirement to report high turbidity levels to the Health Department. Mosley argued his reports were based on manual measurements because the plant's automated monitoring system wasn't properly recording turbidity levels. He said reports from the system didn't indicate when the treatment plant was offline.
Drinking Water Advisory and Operator Licensing Committee Chairman Stacy Cheevers said after the board meeting the data extracted from the manual measuring instrument did not match what Mosley recorded. Cheevers also said during an October hearing Mosley was not able to explain in some instances whether he made a measurement himself or used data from the automated system.
The Ozark Mountain Regional Public Water Authority provides water to cities and rural water associations serving nearly 20,000 customers in Marion, Searcy, Boone and Newton Counties.
WebReadyTM Powered by WireReady® NSI