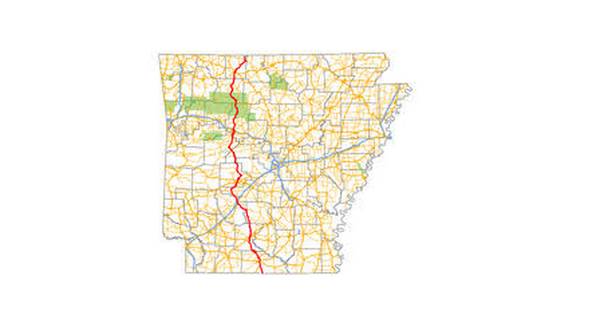 The Harrison Planning Commission will hold a public hearing in February regarding long-term planning, taking into consideration the chance of a Highway 65 bypass around the city.
The Harrison Daily Times reports the commission met Tuesday and reviewed proposed changes to the city's Zoning Code, Land Development Regulations and Master Street Plan, which have been in the works for months.
Mayor Dan Sherrell said parts of the Master Street Plan depend a lot on the Arkansas Department of Transportation's plan for a bypass of the city.
Harrison Public Works Director Wade Phillips said there are plans for the bypass on the northern side of the city. He said it would mean a significant drop in traffic "should it happen."
Commissioner Pat Brown asked if ArDOT had considered a bypass south of the city.
Phillips said there is a general plan, and there is no real preference for ArDOT. Commission chairman Mike Norton said it was his understanding the southern route would cut through an Indian burial ground, which would complicate matters.
Phillips said it could be a decade before ArDOT even moved to obtain rights of way, although he said it could be sooner. Norton added that ArDOT seems to prioritize projects annually.
Phillips said there is a large push for a Highway 412 corridor across the northern part of the state. Should the group behind that move gain more political muscle, it could bring federal money into play and things could change.
Baxter County resident Gilbert Losurdo is serving as managing director of the North Arkansas East West Corridor Association. The group is pushing for continued improvements to the Highway 412 corridor.
The Harrison Planning Commision plans to publish the draft of proposed changes to its Zoning Code, Land Development Regulations and Master Street Plan on the city's website at cityofharrison.com City of Harrison — and give the public a chance to review them.
A public hearing will be held on the evening of February 15th at 6:00 at Harrison City Hall for people to make comments or ask questions.
Those plans would then go before the Harrison City Council for adoption.
WebReadyTM Powered by WireReady® NSI