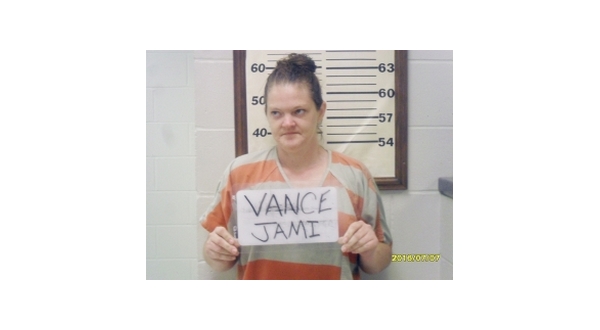 Ozark County Times photo
A Texas County woman, 34-year-old Jami Lynn Vance of Hartshorn, was sentenced to seven years in prison earlier this month in connection with an April 2016 break-in and buglary at the Sweeton Pond Church in Dora.
The Ozark County Times reports Vance had pleaded guilty to second-degree burglary in connection with the case last November.
Vance was sentenced to seven years in the Missouri Department of Corrections. The execution of the sentence was suspended, and she was placed on supervised probation for a term of five years.
Vance and co-defendant, 34-year-old David DuJardin of Houston, Missouri, were both questioned by Texas County officers in 2016 in connection with a swath of burglaries in Texas County coinciding with the Sweeten Pond break-in. During questioning, Vance reportedly told officers she dropped DuJardin off at the Sweeton Pond Cemetery so he could steal the cemetery gate out front, and she pulled the car around to the church parking lot to wait for him.
While trying to remove the gate, DuJardin realized he did not have the correct tools, so he reportedly broke out a window and entered the church in search of tools to use. While inside, he said he decided to take several other items as well. DuJardin loaded the vehicle with the stolen items, and the pair loaded the cemetery gate on top of their car and left.
While attempting to leave, the pair had a flat tire just north of the church. Vance and DuJardin told officers they hid the stolen items from the church in a ditch and put the gate in a wooded area near where they abandoned their vehicle.
Officers responded to the report of an abandoned vehicle on Highway 181 just north of the Sweeton Pond Cemetery on April 21st, and officers later determined the vehicle belonged to Vance and DuJardin. However, the burglary hadn't been reported at that time, so the vehicle wasn't deemed suspicious. Vance said they returned to the scene a few days afterward and retrieved the items.
DuJardin pleaded guilty to burglary in connection with the Sweeton Pond burglary case in July 2017 and was sentenced to five years in prison, to be served concurrently with other cases in which he was charged.
WebReadyTM Powered by WireReady® NSI