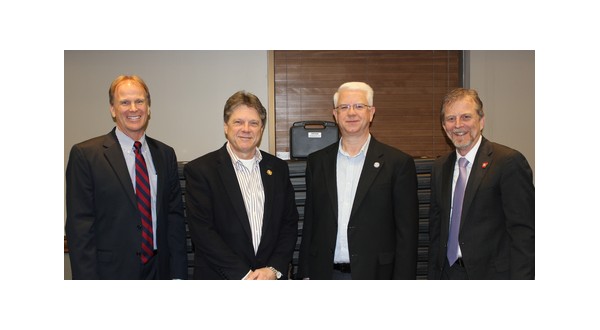 In an effort to stop a deadly disaster before it occurs, officials from Baxter Regional Medical Center presented local law enforcement with a new life-saving tool to add to their arsenal Thursday. Both city and county police vehicles will now have Narcan kits to use in case of an opioid-related emergency. Narcan is a prescription nasal spray for treating possible opioid overdoses. It can also be used in situations where law enforcement personnel incidentally come into contact with an opiate.
BRMC officials presented 75 kits to Baxter County Sheriff John Montgomery and Mountain Home Police Chief Carry Manuel. BRMC Pharmacy Director Elizabeth Smith helped coordinate the effort to legally obtain the kits. She says the next step is law enforcement training, along with ongoing support. The plan is to be able to administer Narcan to opioid overdose patients as well.
Officers in the Twin Lakes Area have not yet had a situation where they have come into contact with a dangerous opioid. Fourteenth Judicial District Prosecuting Attorney David Ethredge, who spearheaded the effort, says he wanted to make sure they are prepared.

Listen:


On September 22nd, 2016 the United States Drug Enforcement Administration issued a law enforcement and public warning about the synthetic opioid Carfentanil. The drug is 10,000 times more potent than morphine and 100 times more potent than Fentanyl. Fentanyl is 50 times more potent than heroin.
The warning says two New Jersey detectives were recently exposed to a very small amount of Fentanyl and one says he thought he was going to die. He says it felt like his body was shutting down.
The detective urged police to skip testing on the scene. Montgomery says officers have to take extreme precautions if field testing is necessary.
At a cost of $16,000 for the 75 kits, Manuel says that's a small price to pay if it helps to save just one life.
WebReadyTM Powered by WireReady® NSI