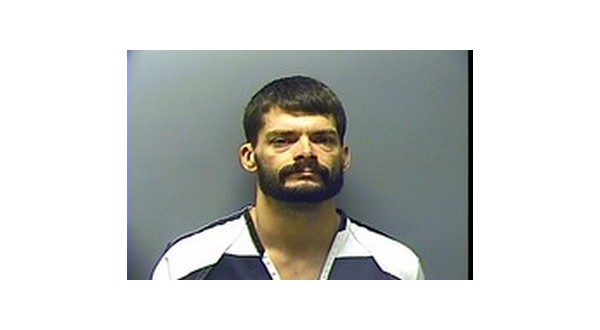 A rural Mountain Home man, already facing numerous charges after fleeing from Mountain Home Police officers nearly two weeks ago, was arrested again  after attempting to elude a Baxter County Deputy. According to Sheriff John Montgomery, 32-year-old Andrew Beyer was booked into the Baxter County Detention Center Friday evening on a felony count of possession of a controlled substance (methamphetamine) and misdemeanor counts of fleeing from an officer and probation violation. His bond is set at $5,000 on the new charges, but he is being held without bond on the probation violation.
Sergeant Robert Recktenwald responded to a vehicle reported to being broken down on County Road 913, and Beyer was believed to be with the vehicle. Beyer was reported to have an outstanding warrant for a probation violation. Sergeant Recktenwald approached the area and observed a pickup truck pull from County Road 913 on to Arkansas Highway 126 North. The deputy initiated a traffic stop when he discovered the truck didn't have a license plate on display, and he recognized Beyer as a passenger in the vehicle. Sergeant Recktenwald attempted to take Beyer into custody, but Beyer allegedly pulled away and fled on foot. Recktenwald gave chase for nearly 30 yards and then used a Taser to apprehend Beyer and take him into custody. A search of the vehicle was later conducted, and a small amount of methamphetamine was reportedly located and attributed to belonging to Beyer.
Beyer had already been arrested by the Mountain Home Police Department on January 19th on similar charges. Officer Rodney Wiggins initiated a traffic stop at a local convenience store. A female passenger exited the vehicle and went inside the store, and that's when Beyer allegedly put the vehicle in drive, struck another vehicle and sped away. When the vehicle hit a curb and disabled, Beyer reportedly fled on foot, and the officer deployed his Taser as he gave chase. After Beyer was taken into custody, several drug-related items were found.
Beyer is scheduled to appear in Baxter County Circuit Court later this month.
WebReadyTM Powered by WireReady® NSI