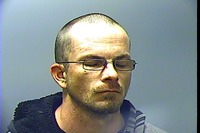 A Mountain Home man, 32-year-old Marc Zdan, has been arrested on felony drug offenses after a report of shoplifting at a local Dollar General store.
Mountain Home Police Chief Carry Manuel says when an officer from his department was dispatched to the store Sunday, he was advised the suspect, later identified as Zdan, had left reportedly driving to a nearby business.
With a description of the suspect and a license plate number, the officer located Zdan at the nearby business. Zdan allegedly admitted to stealing a pair of women's undergarments for his girlfriend. When asked if he had anything else in his vehicle stolen or illegal, he handed the officer a blue glass smoking pipe and said he had smoked methamphetamine about two hours prior. A search of the vehicle also revealed a 9mm handgun in the driver's door and .4 of a gram of suspected methamphetamine in Zdan's wallet. The drug field tested positive.
Zdan was taken to the Baxter County Detention Center, with felony charges of simultaneous possession of drugs and firearms and possession of drug paraphernalia filed against him, along with a misdemeanor count of shoplifting.
Bond was set at $2,650. Zdan is set to appear in Baxter County Circuit Court later this month.
WebReadyTM Powered by WireReady® NSI