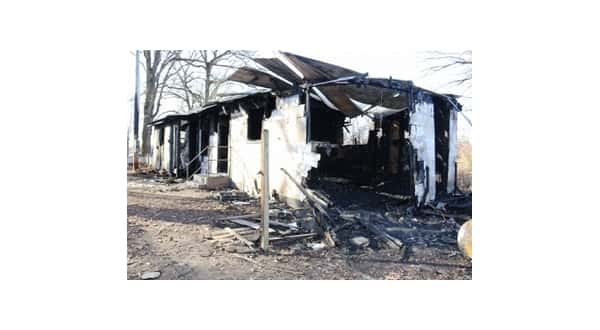 The Ozark County Sheriff's Department is investigating a fire that heavily damaged an apartment residence on Shady Oaks Circle, formerly known as Wagon Wheel Court, off Highway 181 in Gainesville.
The Ozark County Times reports on the evening of January 23rd around 10:30 a concerned citizen reportedly called the Ozark County Sheriff's Department to report the strong odor of smoke in the area. Fire officials told the Times a deputy was dispatched but was unable to find anything burning. However, officials were able to pinpoint the location later when the next door neighbor saw flames coming from a window of the apartment and called the sheriff's department to report the fire.
Gainesville, Lick Creek, Caney Mountain and Timber Knob volunteer fire departments were dispatched to the scene, along with the Ozark County Ambulance, sheriff's deputies and the Missouri State Highway Patrol. When officials arrived, the apartment was fully engulfed.
The firefighters were unable to save the structure, but they did keep the fire from spreading to neighboring structures that stand about 15 to 18 feet from the burned apartment.
According to a firefighter, apparently no one was at the scene when firefighters arrived, and no bodies were found within the burned structure. After the blaze was extinguished, the Missouri State Fire Marshal's Office was called to investigate the blaze.
Mike O'Connell, the communications director for the Missouri Department of Public Safety, told the Times in an email the fire was ruled as incendiary, or set, and is under investigation. The Ozark County Sheriff's Office is leading the investigation following the cause and origin.
Ozark County Sheriff's Deputy Cpl. Curtis Dobbs, who also serves as a certified fire investigator with the state of the Missouri, said the sheriff's department is investigating the fire as an arson. When asked if deputies had any suspects in the case, Dobbs said no official suspect had been identified yet.
Dobbs said Bruce Durbin owned the apartment buildings until his death in September 2016. The property has been proceeding through the court system since then, and a bank had recently regained ownership of the buildings.
Dobbs said there were several people living there, and they were offered a 'cash for key' type of arrangement, "…meaning if they agreed to clean and vacate the premises, they would be compensated, quite substantially. And some of these people weren't paying anything to stay there to begin with. They were basically squatting."
Ozark County Times photo
WebReadyTM Powered by WireReady® NSI