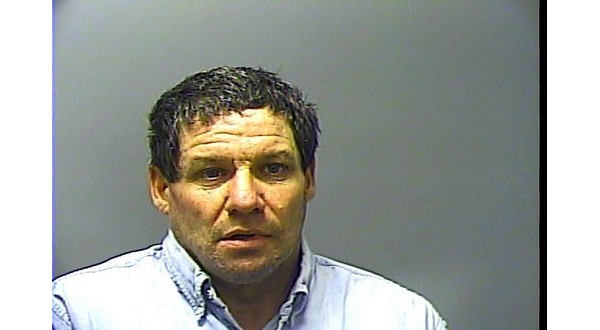 A recent parolee is accused of attempting to set fire to a local structure. Baxter County Sheriff John Montgomery reports 49-year-old Michael Thompson of rural Mountain Home was arrested and booked into the detention center early Wednesday morning on felony counts of arson, breaking or entering and first-degree escape and misdemeanor counts of first-degree criminal mischief and third-degree domestic battery. His bond was set at $12,500.
A structure fire was reported after 10:00 Tuesday evening at a residence on Buzzard Roost Cutoff. Thompson and his girlfriend had reportedly gone out together earlier in the evening, and they began to quarrel. When they returned to the residence, the girlfriend hid in the woods because she was afraid of Thompson. He allegedly used force to break into and cause damage to his girlfriend's vehicle. The girlfriend and another woman residing at the location reportedly observed Thompson setting fire to something near a shed on the property and called 9-1-1 to report the fire.
Thompson fled from the residence in a vehicle before deputies and firefighters arrived. He was located and stopped a short time later on the Sheid-Hopper Bypass by Mountain Home Police officers.
It was determined during the investigation Thompson had started a fire in a plastic tote near the shed, but the structure did not sustain any damage as a result. The girlfriend also told deputies Thompson had assaulted her Tuesday evening resulting in injuries, and there reportedly was evidence to substantiate the complaint.
After booking, Thompson was escorted to the Criminal Investigation Division to be interviewed. As he was being taken back to the detention center, he fled on foot toward Hickory Street. The jailer, Corporal Auston Morrison, and two other deputies quickly captured him a short distance away. Corporal Morrison was later treated a Baxter Regional Medical Center for minor injuries sustained during the apprehension.
Thompson has been on parole since late December, and he will likely have a no-bond hold for a parole violation. He has been booked into the Baxter County Detention Center nine times since 2007. Thompson is set to appear in Baxter County Circuit Court Thursday.
WebReadyTM Powered by WireReady® NSI