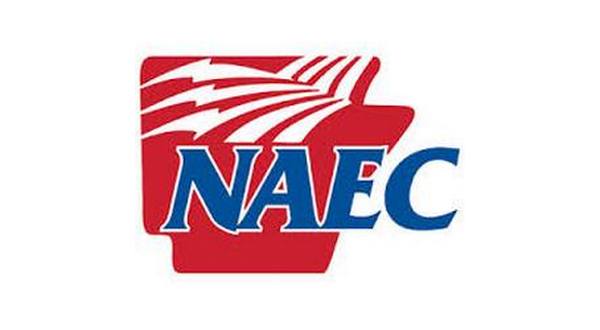 January's extremely cold temperatures resulted in increased electric usage for many North Arkansas Electric Cooperative (NEAC) members as their heating systems worked harder to maintain a comfortable home.Chief Executive Officer for NAEC, Mel Coleman says space heating accounts for about half of a home's energy costs. The below-average weather The Twin Lakes Area has seen can have a dramatic effect on bills due to increased usage.
During the billing cycle of December 29th to January 28th, the average high was 42.6 degrees at the co-op's Salem headquarters, and the average low was 18.6 degrees.
NAEC's energy advisers suggest members take steps to ensure they are heating their homes efficiently.
Confirm a heat pump's thermostat is not set on emergency heat. This also can be referred to as "E Heat," "EM Heat" or "Supplemental Heat." This setting uses the unit's electric-resistance heat strips, which will cost more than twice as much to operate as when the unit is on the "Heat" setting.
It is advised to avoid adjusting nonprogrammable thermostats more than two degrees at a time. If the set temperature is increased by more than two degrees, the heat strips will kick on to get to the desired temperature quicker.
Limit the use of space heaters. Continually operating one 1,500-watt space heater can increase an electric bill by approximately $120 a month. Safety also is key if using a space heater. NAEC recommends never leaving one unattended.
Schedule a checkup of the heating system by a licensed heating and air dealer. They can confirm if the unit is operating at its most efficient and make any needed repairs. This can extend the life of the unit as well.
NAEC offers options for members who are having difficulty paying their bill. The first is to contact the co-op at 870-895-3221 and request an extension. The second is to enter a delayed payment agreement that spreads the bill amount over four months with the first installment being paid by the 14th of the current month.
Help also may be found through the government's Low Income Home Energy Assistance Program for those who qualify. North Arkansas Development Council and Ozark Opportunities accept applications for assistance in NAEC's service area.
Members who want to pay about the same amount each month can consider levelized billing. With this option, the member pays the average of the previous 12 months' actual bills each month. The eventual amount paid would be the same as with traditional billing, but drastic changes in the bill amount from season to season would be eliminated.
A way to reduce future energy costs is to improve the energy efficiency of a home. Low-cost measures can include sealing with caulk around doors and windows, setting water heater temperature no higher than 120 degrees and changing HVAC filters regularly. Larger improvements could be adding insulation to the attic or crawlspace or replacing an electric furnace with a high-efficiency heat pump. Although these can be costly in the short term, they will lead to substantial savings on a home's energy costs in the long term. NAEC's energy advisers can offer suggestions on which energy efficiency measures would benefit a home the most.
NAEC can help qualifying members who own their home fund those needed energy efficiency improvements through a low-interest loan. Improvements can include: geothermal heat pumps, air-to-air heat pumps, ductless mini-split heat pumps, insulation, energy-efficient windows and doors, electric water heaters and LED fixtures and bulbs.
North Arkansas Electric Cooperative serves more than 36,000 active accounts throughout seven counties. The cooperative's headquarters is located in Salem, and full-service offices are located in Ash Flat and Mountain Home. For more information, visit www.naeci.com or call 870-895-3221.
WebReadyTM Powered by WireReady® NSI