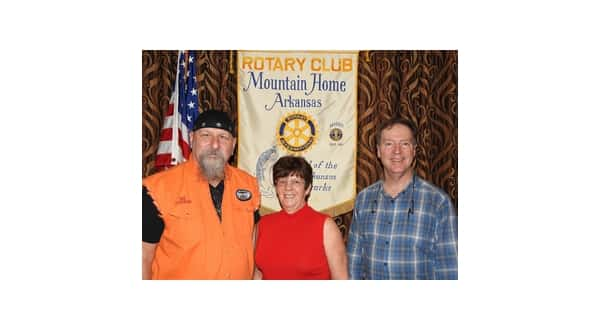 The planned Bob Davis Male Veterans Shelter was the featured presentation at the Rotary Club of Mountain Home meeting earlier this month.
Joanna Ferris and John "Sgt. BamBam" Birenbaum spoke to the club about the new facility for disabled and homeless veterans. The site at 421 East 9th Street in Mountain Home has been donated by Fred and Sharon Edwards. However, volunteer funds and help are needed to complete new roofing, a sprinkler system, and an interior redesign to eventually accommodate between 20-40 male residents.
When completed in about a year, the local shelter will be one of only 11 such homes in the United States, with the closest comparable facility located in Memphis.
The Rotarians learned the local initiative is a "hands-up, not a hand-out" to veterans who need a temporary home. In the future, the facility will provide counseling and work training programs, and it is hoped the shelter will include a military surplus store manned by residents.
For more information, contact the Bob Davis Male Veterans Shelter Facebook page at www.facebook.com.
Photo (from left to right): John "Sgt BamBam" Birenbaum, Joanna Ferris, and Rotary President-elect Mark Hopper.
WebReadyTM Powered by WireReady® NSI