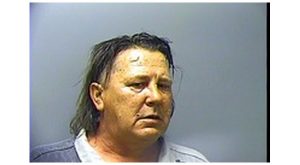 Nykola Kotyk, Jr., of rural Mountain Home, who faces charges stemming from an incident in which he swung a hatchet at law enforcement officers and who accused his neighbors of implanting a chip and bugs in his body, will undergo a mental evaluation.
The announcement came during a session of Baxter County Circuit Court Thursday.
The evaluation will determine if the 53-year-old Kotyk is fit to proceed in the cases against him.
Kotyk was charged after deputies were called to a residence along County Road 420 in response to a disturbance call. They reported finding Kotyk standing in the yard "screaming and cussing to the top of his voice."
As the deputies were attempting to calm Kotyk, he is alleged to have said his neighbors had electrified his house, placed a force field around the residence and put chips and bugs into his body. Kotyk was said to have demanded the responding deputies go immediately and arrest his neighbors.
When Kotyk continued screaming, the decision was made to place him under arrest for disorderly conduct.
As the deputies approached Kotyk, he is reported to have turned and started toward the back door of his house. The deputies said as Kotyk reached the bottom of the steps, he picked up what one of the deputies thought was a hammer and swung it toward them.
A Taser was used in an effort to get Kotyk under control. He was said to have stumbled up the steps, but did not go down. A second Taser was deployed, and Kotyk fell on the porch.
The deputies reported Kotyk rolled over swinging the weapon causing the Taser probes to pull out. He was eventually subdued and placed under arrest.
After he had been arrested, deputies discovered he had been swinging a hatchet at them rather than a hammer.
The charges against Kotyk include two counts of aggravated assault, criminal use of a prohibited weapon and resisting arrest.
Activity in Kotyk's case will be suspended pending the results of the mental examination. Kotyk is being held in the Baxter County Detention Center. His bond is set at $25,000.
WebReadyTM Powered by WireReady® NSI