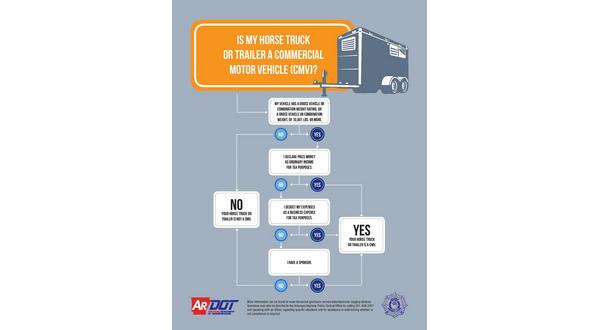 The Arkansas Highway Police have issued a clarification statement for the hauling of personal livestock. The compliance deadline for commercial motor vehicle (CMV) operators to implement electronic logging devices (ELDs) was December 18, 2017. The Congressionally mandated action requires interstate and intrastate motor carriers and drivers that are required to maintain records of duty status (driving hours) to do so electronically. The mandate does not change the definition of a CMV or who is required to have a commercial driver's license (CDL). It only changes the manner in which a driver records his/her duty status and hours of service.
The ELD mandate applies to CMV owners/operators only. Individuals who occasionally operate vehicles solely for recreational purposes such as those used to transport personal livestock to shows, competitions or similar events are not impacted unless the gross vehicle or gross combination weight rating, or gross vehicle or combination weight, is 10,001 pounds or more and one of the following applies:
Prize money is declared as ordinary income for tax purposes.
Expenses are deducted as a business expense for tax purposes.
A sponsor pays some or all expenses.
If any of these apply, the individual is considered a CMV owner/operator and may be required by law to log their duty status and driving hours. The individual may also be required to follow the new mandate and implement an ELD in the vehicle.
If none of the aforementioned applies, the individual is not considered a CMV owner/operator and is NOT required to follow the new ELD mandate, nor subject to the Federal Motor Carrier Safety Regulations.
More information can be found at www.fmcsa.dot.gov.
Questions may also be directed to the Arkansas Highway Police Central Office by calling 501-569-2421 and speaking with an officer regarding specific situations and for assistance in determining whether or not compliance is required.
WebReadyTM Powered by WireReady® NSI